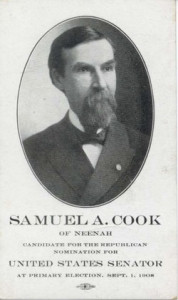 S. A. Cook is my 2nd great-grand uncle on my paternal side. He is the 9th of 12 children born to William Palmer Cook and Jane McGarvy Cook. Everyone has their "favorite" Cook, and S. A. was the Cook that fascinated my father. He studied and researched him for years, and in his honor and memory I am creating this page.
Samuel Andrew Cook was born January 28, 1849 in Ontario, Canada, and moved with his family to Wisconsin in 1856. At age 16, he enlisted as a private in Company A, Second Wisconsin Cavalry, serving under General Custer from January to November 1865. He was U. S. Postmaster in Unity, Wisconsin, 1874; Mayor of Neenah, Wisconsin, 1889; a Wisconsin State Assemblyman, 1891-1892; a member of the U. S. House of Representatives, 1895-1897. He donated the S. A. Cook Armory to Neenah-Menasha in 1907, was a commander of the Wisconsin G.A.R., 1915-1916. He died April 4, 1918, and is interred in Oak Hill Cemetery, Neenah, Wisconsin.
S. A. Cook Armory
The S. A. Cook Armory was under construction the summer of 1906. It was "two stories high, with a basement extending under the entire structure. The exterior, 70 by 120 feet in size, is of red pressed brick, the color closely approaching a pinkish tint." The construction of the armory was the culmination of an eleven year dream of S. A.'s to construct "a moderate sized building as a Memorial Hall, a monument to those gone before us and of use to the living…" The building was presented to the cities of Neenah and Menasha, and Co. I, Wisconsin National Guard, by S. A. on February 2, 1907. The first campfire was held at the armory on April 10, 1907.
The armory was torn down in the late 1980s, and the S. A. Cook sign was placed in White Park, re-named in his honor. Cook Park is located between River Street, and W. North Water Street in Neenah, Wisconsin.
While S. A. had a long and illustrious career, he had his share of tragedy. On 16 Sep 1873, at the age of 24, he married 19-year-old Abbie F. Kelliher in Brothertown, Calumet County, Wisconsin. By September of the following year they were eagerly anticipating the birth of their first child. On September 3, 1874, she gave birth to a son. Sadly she passed away on September 8, 1874, and their son died a short time later on September 24th. They were buried in Lakeside Cemetery in Stockbridge. I was unable to find either vital records, or an obituary or death notice for them, but S. A.'s heartbreak speaks loudly through the gravestone inscription: "My brightest fondest hope, The light and joy of life, Here sleep in deaths embrace, My darling child and wife."
S. A. would marry two years later on May 17, 1876, when he took for his bride, Jennie Christie, in Stockbridge. The bride and groom were both 27 years of age. They would have two children, Maude who was born in 1878, and Harry who was born in 1881. Jennie and S. A. would only share nineteen years together, before Jennie passed away in Aurora, Canada. She had been in failing health for a number of years, and thought a change of climate might help. Instead of helping, she became worse, passing away September 19, 1895, at the age of 46. She was buried in the Cook plot in Neenah's Oak Hill Cemetery.
It is not clear exactly when S. A. purchased the 8 grave plot in Oak Hill, but his sister-in-law Elizabeth Christie was the first family member to be buried there as she died June 27, 1895, just a few months before her sister. A COOK monument marks the center of the plot, and is still visible from the road running alongside the cemetery. Through the next decades the remaining graves would be filled with other family members. In 1910, sister-in-law Emeline Christie, 1918, S. A. himself would be laid to rest next to his wife Jennie, 1931 his son Harry, 1938, sister-in-law Margaret Christie, and in 1955, Elizabeth Bartlett, long-time housekeeper for S. A., who had been adopted into the Christie family as a very young girl, and lived most of her adult life caring for S. A. and his family.
There is one additional grave marker in this family plot. In 2005, S. A.'s great-grandnephew Robert D. Sternitzky was laid to rest in the Cook plot. In 2022, Robert's wife Emma Louise Tapper Sternitzky joined her husband after a short, but powerful battle with kidney cancer.
The S. A. Cook Timeline
As I have tried to sort through all of S. A.'s accomplishments, I decided to begin a timeline of his life. It is not complete, it is an ongoing project, but I invite you to take a look. S. A. Cook Timeline.
The S. A. Cook Choose Your Own Adventure
The Samuel Andrew Cook Category allows you to scroll through the posts.
OR Follow the links below to read the posts by date, title, or subject matter.
The Stories of Samuel Andrew Cook