Time. And Photo Identification
I would bet that every family has one, a group photo that family members keep poking at, working to positively identify every single person. We have such a photo in our Cook family collection. It is a photo that was taken in August 1906 on the steps of S.A. Cook's home in Neenah, Winnebago, Wisconsin, during the famous family reunion. I have written about it before in my blogpost Feeling Thankful.
Many family members have worked to identify this photo, the most recent documentation I have is from 2015, and I am pleased with my 2015 self for taking the time to write a research report stating why I was identifying each person as I was. Wrongly identifying, but I did take the time document my "why." Well, and even my "when" as this photo has also been attributed to a reunion held in 1911.
Who is in the photo? The newspapers of the day tell us: "Present in birth order were: Kate Healy, and her husband, Conner Healy, Unity, Wisconsin; Watson H. Cook, Washington, DC; Loretta Elliott, Toronto, Canada; Jacob H. Cook, and his wife, Anna Cook, Appleton, Wisconsin; Sarah Drake and her husband, Isaac P. Drake, Stanley, Barron County, Wisconsin; James M. Cook and his wife, Helen Cook, Baker City, Baker County, Oregon; S. A. Cook, Host, Neenah, Wisconsin; Alfred Cook and his wife, Amanda Cook, Unity Wisconsin; and Albert Cook, Lewiston, Nez Perce County, Idaho."[1]
Why am I taking yet another look at this photo, another stab at it, what was wrong with the first few attempts? FamilySearch. The ease of uploading images to the family tree located on FamilySearch has prompted Cook descendants to do just that, and oh my gosh, what a game changer this has become. Also since 2015, I have met descendants who have weighed in on the identification, and so I present my 2020 view of this image, with no commentary on past identification.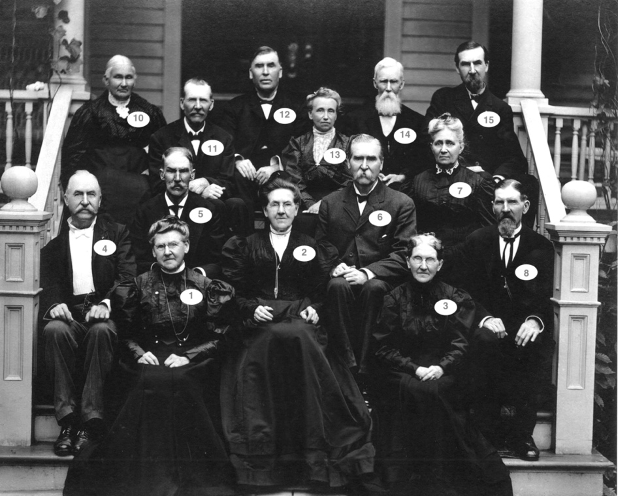 So, there you have it, the 2020 view – hmmm pun intended? – of this family photo taken on a very special day in August 1906. Comments, corrections, questions? Please feel free to contact me.
---
[1] "Family Reunion," Marathon County Register, (Unity, WI), August 3, 1906, p. 1.