The House That Cook Built – Part 1
The Beginning
The house that Cook built. Or did he?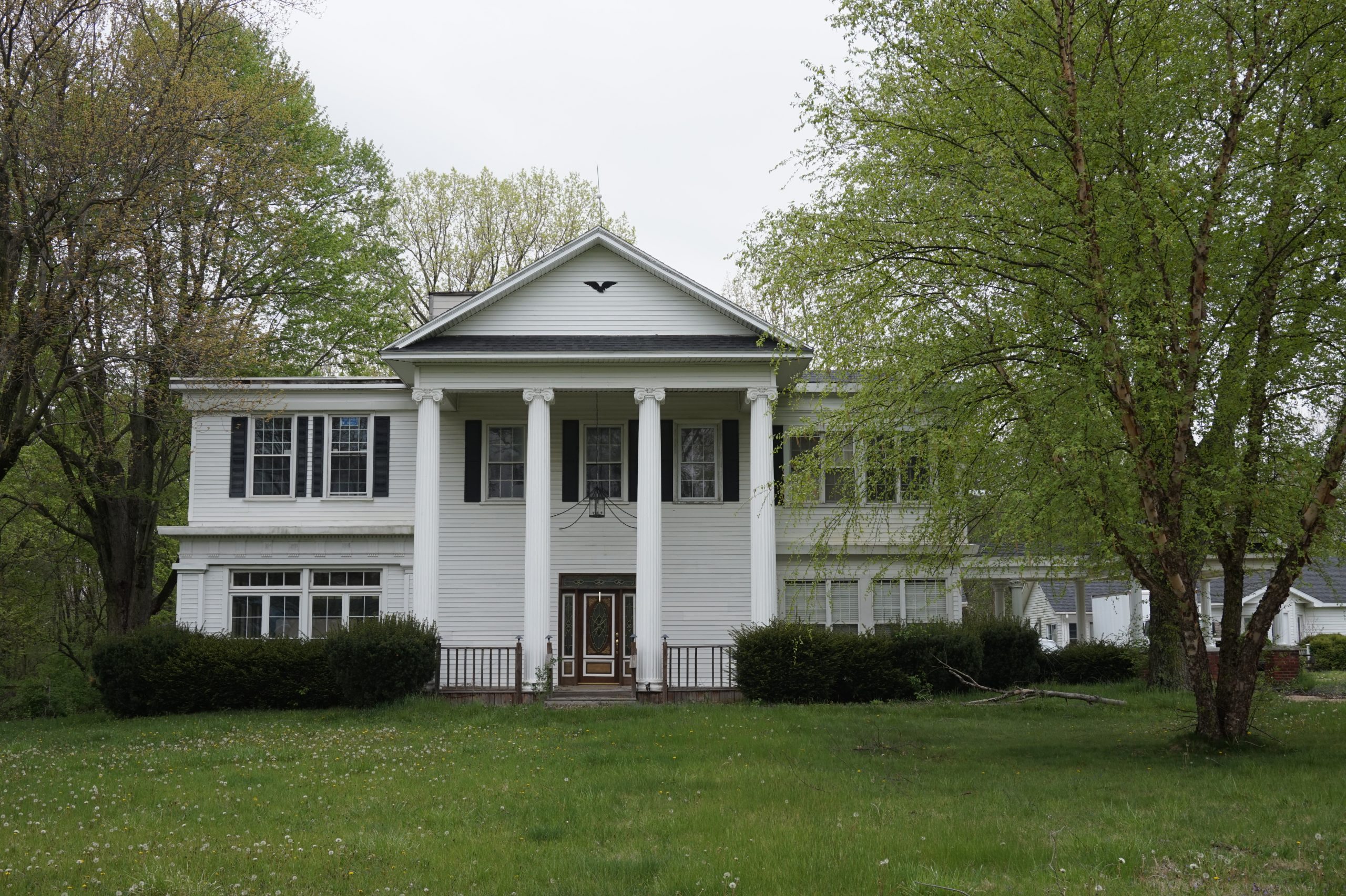 In early 2016 I received an email from a cousin who had just spent time in Alexandria, Madison County, Indiana, a community located 385 miles from Neenah, Winnebago County, Wisconsin. Included in the email was a photo of a large, white-columned house located at 1515 South Park Avenue. My cousin shared with me that she had been told that this was Samuel Andrew (S. A.) Cook's home during the time he owned the Alexandria Paper Company. I remember thinking, why would he own such a large home in Alexandria when I knew he had retained his residence in Neenah? So into another rabbit hole, I dove.
It is now 2021, and I have yet to write this post. I started, but new information kept slowing the process. But it is time to begin again. I cannot head to Alexandria, so I will begin as I most always do, with armchair research.
Why Alexandria? We cannot study the history of this home without first understanding the land that it stands upon. The first record found, is a land patent dated August 5, 1834. Morgan James of Rush County, Indiana purchased 82 acres and forty-hundredths of an acre in the W half of the NW Corner of Section 30, under the Land Act of 1820. This act ended the ability to purchase land on credit or an installment program. [1] The new law which came into effect on July 1, 1820, required full payment, and had the minimum price per acre reduced from $2.00 to $1.25 an acre, and the minimum tract being reduced from 160 acres to 80. Morgan James received certificate no. 1784 after having made full payment on the land. The certificate "given under my hand, at the City of Washington" by President Andrew Jackson.
A Madison County history tells us that "previous to the year 1831, there was not a white man within the territory which comprises the township." The first entry for land in Monroe township occurred that year in Section 19, near the present site of Alexandria. In 1832, Morgan James settled on "Little Pipe creek, south of where Alexandria is now situated." And we know that two years later he purchased this land in full. And two years after that, in January 1836, Monroe Township was named for the fifth President of the United States, and became the largest township in the county, containing fifty-one square miles. [2] Who is Morgan James? I have not been able to locate him in the census. The Madison County Register of Deeds is only open for in-person research, and at this time records are not available online for this time period. Relying on plat maps, I have been able to move forward in time to 1880, and another owner, Joel Jones.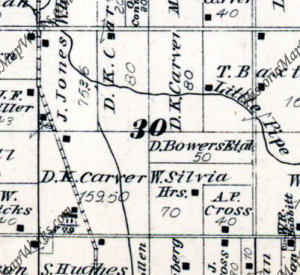 Joel Jones was a very well-to-do farmer in Madison County. Born in North Carolina in 1816, he came to Monroe Township in 1838. [3] I find him in Monroe Township in 1860 with a value of real estate owned of $2,500, and a personal estate of $300. Residing with him at the time of the census was his wife Rhoda, age 34, sons John, age 10, Leroy, age 6, and Alpheus, age 3. Ten years later in 1870, he is still living in Monroe Township. His wealth has continued to grow, and he now owns real estate valued at $18,400, with a personal estate of $3,100. His sons, John, Leroy, and Alpheus are living at home, and have been joined by a sister, Sarah, age 10. Living with them was farm laborer, 25-year-old Wesley McKinley. Joel's wife, Rhoda, passed away on 6 Mar 1871, at the age of 44. By 1880, the time of the map, Joel had re-married and was living in Monroe Township with his wife, Mary, age 44, [4] and his daughter enumerated as Ellen. Joel passed away on 8 Jun 1892.
The History of Madison County gives us a glimpse into the Jones life in Madison County through a biography written about Joel M. Jones, [5] grandson of Joel, son of John. At the time the history was written in 1914, Joel was living in Boone Township. His biography tells us that he was born 8 Mar 1872 in Monroe Township and that his father was also born in Monroe, "and the Jones family has been identified with this county since pioneer times." "At the age of twenty-two, he had come into possession of a farm of his own, formerly owned by his grandfather, Joel Jones, who had come to Madison County from North Carolina."
Were Joel and his family living in the house when the 1880 census was enumerated? According to the county records, the 2 1/2 story wood frame house was built in 1875, and currently has approximately 5,570 square feet of living space. This does not include the basement, which is said to be unfinished. The detached garage was built in 1899, a gazebo was added in 1980, and a utility shed in 1997. [6]
Looking again at the 1880 map of Section 30, there is no mark indicating a house, or as the key states, a "farmhouse" located on the Jone's property. An example of a farmstead in Monroe Township was published in Forker's Historical Sketches and Reminiscences of Madison County, Indiana, p. 116, is this of N. E. Tomlinson. He lived north of Alexandria, and this is his home, marked on the property as being residence.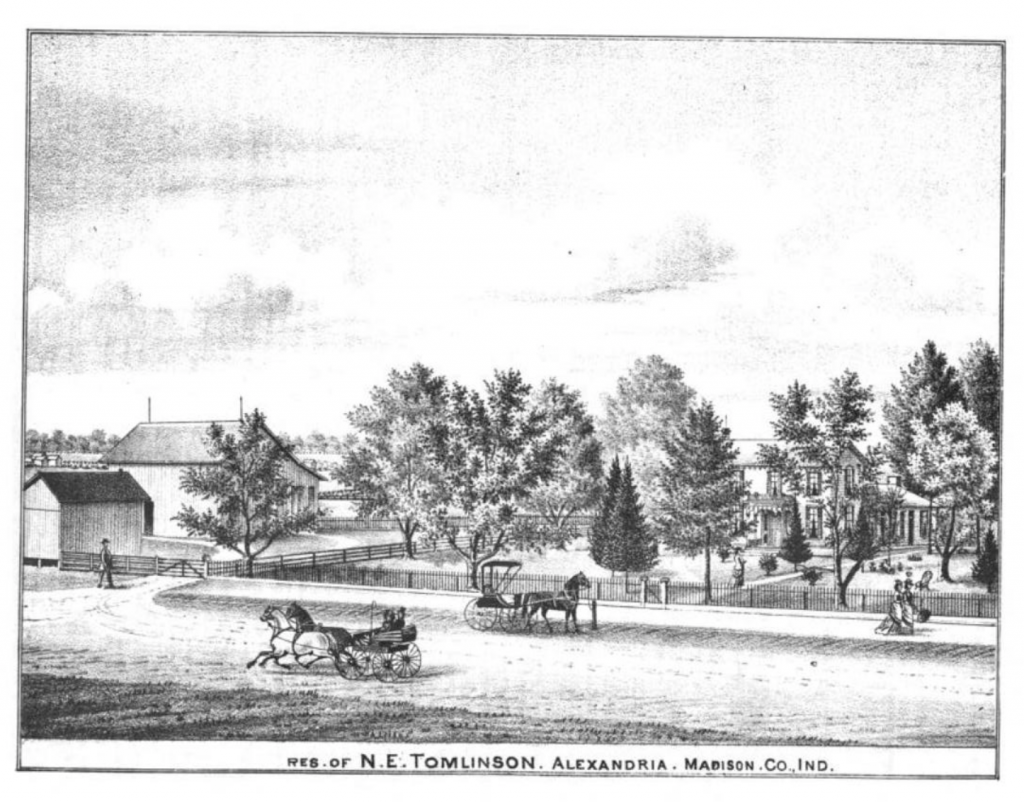 By February of 1893 Alexandria was in the "Center of the Largest Natural Gas Belt." This vast amount of available cheap energy caught the ear of S.A. Cook, and by 1895 the Oshkosh, Winnebago newspaper, The Daily Northwestern, was reporting that he was "transacting business" in Alexandria.[7] Alexandria was actively advertising and promoting this inexpensive energy, stating that the average daily flowage of 9,000,000 feet of gas had a pressure of 320 pounds to the square inch. Because of the industries locating in Alexandria, the population had grown from 715 in 1891, to over 4,500 by December 1892. It was projected that the population would rise to 10,000 in 1893. The city had "moderately priced lots" in the city, and acreage a mile to a mile and a half outside the city was being "platted for business, residence and factory purposes." [8]
Six years later in 1899, S.A. Cook as the "chief owner of the Rolling Mill Land Company"[9] was working to entice manufacturing companies to locate on property in Alexandria owned by the Rolling Mill Company. In June he took his own advice, and the Alexandria Paper and Investment Company was incorporated with a capitol stock of $300,000. Director S. A. Cook entered into a partnership with M. H. Ballou, a Neenah man, who would become the company's vice president and general manager, and secretary-treasurer A. E. Bunker from Chicago. G. W. Young of Neenah was also part of the management team, working as superintendent. For the location of the new factory, S. A. purchased a 30-acre site south of the city, located on Little Pipe Creek. Shortly after incorporation work began on the 3-story, 340 x 100 main building, the 2-story, 250 x 60-foot pulp mill, plus the engine and boiler rooms, each to measure 100 x 100 feet. The paper mill would be in operation by November 1, 1899. [1]
In September, 40-year-old Miner Hart Ballou moved his family to Alexandria. [11] His family consisted of his wife, Flora, 38 years old, son Harry, age 16, and daughter, Belle, age 12. It was this year that the garage was added to the property.
In October it was reported that the mill was nearly complete, and the city had grown by 1,000 people due to the influx of workmen for the paper mill. The company had "sold nearly 500 lots that are fast being covered with tenement houses." [12] The houses are "sold on the monthly plan, and in about three years the mechanic owns his own home. [13] In December the company name was changed from the Alexandria Paper and Investment Company to the Alexandria Paper Company. [14]
By the spring of 1900, M. H. Ballou had a falling out with S. A. Cook, and they dissolved their partnership. In June of 1900, he and his family returned to Wisconsin to reside in Appleton, Outagamie County. [15]
Did they live in the house? Maybe? They were enumerated in the 1900 United States Federal Census on June 23rd, residing in a rented home in Monroe Township. Enumerated around them were families renting, owning, living on a farm, living in a house, day laborers, a teamster, and even an undertaker. At this point, I am not sure. The official date of the 1900 census was June 1st, so I believe that by the 23rd they were no longer residing in Alexandria, as the information is either incomplete or just a bit "off." The instructions for the census are to include the "Name of each person whose place of abode on June 1, 1900, was in this family," so someone on the property was found to give their details, and they did the best that they could. The Ballous are also found in the 1900 census for Appleton. Enumerated on the 13th of June, complete details were given, including the birth month of each family member. I believe they were home to speak to the enumerator when he came to the door of their home on College Avenue.
As I began my research into the home, I came across many statements regarding this once-majestic dwelling place. Comments that it had been a brothel, [16] a gin house, bordello, and gambling joint. [17] The home that Harry H. Cook built for his bride, [18] the home that the "owner of the paper mill," Edwin Yule built. Another article states that after Harry died the home was sold to Ed Yule his "nephew" and he renovated it for his bride. [19] So many stories surrounding the origin of this house, yet no one seems to have taken the time to do the logical thing, and look at the actual land records. So what IS the story behind this once stately home on Route 9, just south of Alexandria?
SOURCES:
1. Certificate 1784, 5 Aug 1834, Morgan James; Federal Land Patents, State Volumes; General Land Office Records; digital images, "Madison County, Indiana," Ancestry.com (www.ancestry.com : accessed 4 Sep 2016).
2. John La Rue Forker, and Byron H. Dyson, Historical Sketches and Reminiscences of Madison County, Indiana.A Detailed History of the Early Events of the Pioneer Settlement of the County, and Many of the Happenings of Recent Years, as Well as a Complete History of Each Township, to which is Added Numerous Incidents of a Pleasant Nature, in the Way of Reminiscences, and Laughable Occurrences (Anderson, Indiana: n.p., 1897), 832.
3. History of Madison County, Indiana, with Illustrations and Biographical Sketches of Some of its Prominent Men and Pioneers (Chicago: Kingman Brothers, 1880), 127. Cit. Date: 4 Sep 2016.
4. Find A Grave, digital images (https://www.findagrave.com : accessed 20 Aug 2021), Rhody Jones Memorial, created by starbuck, 9 Aug 2010, memorial number 56837068.
5. John La Rue Forkner, History of Madison County, Indiana: A Narrative Account of Its Historical Progress, its People and Its Principal Interests, 2 volumes (Chicago and New York: Lewis Publishing Company, 1914), 2: 577.
6. http://counties.azurewebsites.net/madison, accessed 6 May 2016.
7. "Neenah Council," The Daily Northwestern, Oshkosh, Wisconsin, 3 Jan 1895, Thursday, p. 1, col. 7; digital images, Newspapers.com (www.newspapers.com : accessed 6 Jan 2018).
8. The Alexandria Company, Alexandria, Indiana (Louisville, Kentucky: Courier-Journal Lithograph, 1893); digital image, Indiana State Library Map Collection (https://indianamemory.contentdm.oclc.org/digital/collection/p15078coll8/id/3757 : accessed 21 Aug 2021).
9. The Oshkosh Daily Northwestern, 15 Jun 1899, Thursday, p. 2, col. 2; digital images, Newspapers.com (www.newspapers.com : accessed 18 May 2016).
10. "The Alexandria Mill," The Paper Mill and Wood Pulp News. The Newspaper of the Pulp and Paper Industry, volume 22, June 1899, 22; digital images, Google Books (https://books.google.com/books?id=MQFZAAAAYAAJ&pg=PP1#v=onepage&q&f=false : accessed 26 May 2016).
11. The Oshkosh Daily Northwestern, 20 Sep 1899, Friday, p. 22, col. 3; digital images, NewspaperARCHIVE (www.newspaperarchive.com : accessed 10 May 2016).
12. "Nearly Completed," Neenah Daily Times, 24 Oct 1899. Cit. Date: 10 May 2016.
13. "Neenah Capital In Indiana," The Oshkosh Daily Northwestern, 25 Jan 1900, Thursday, p. 6, col. 2; digital images, Newspapers.com (www.newspapers.com : accessed 26 May 2016).
14. "Incorporated.," The Indianapolis Sun, 23 Dec 1899, Saturday, p. 3, col. 6; digital images, NewspaperARCHIVE (www.newspaperarchive.com : accessed 10 May 2016).
15. "Big Purchase," The Daily Northwestern, 11 Jun 1900, Monday, p. 1, col. 4; digital images, Newspapers.com (www.newspapers.com : accessed 26 May 2016).
16. "Hotels–Indiana–Madison County," Clipping Files, 1989-2002; OCLC Number/Unique Identifier: 880652327, WorldCat Database; Indiana Historical Society Library, Indianapolis, Marion, Indiana. Cit. Date: 14 May 2016.
17. Linda Ferris, "Elder House to open house on Sunday," The Times=Tribune, 16 Jan 1991, Wednesday, p. 1 & p. 8, col. 1-4 & top; digital images, Newspapers.com (www.newspapers.com : accessed 20 Jun 2016).
18. "Lines from Linda," The Times=Tribune, 10 Sep 1986, Wednesday, p. 2, col. 1-2; digital images, Newspapers.com (www.newspapers.com : accessed 6 Jul 2016).
19. Mary Graves, "Elder House comes to Colonnades," The Times=Tribune, 4 Dec 1985, Wednesday, p. 1 & p.2, col. 1, 3-4; digital images, Newspapers.com (www.newspapers.com : accessed 27 May 2016).