Learn Something New Every Day
This past week not only brought the biggest snow of the season here to Wisconsin, but it also sent a new cousin. And because of the weather, a bit slower week allowing time to collaborate. A few weeks ago I wrote a blog post called "Choices in Life," in which I pondered the way that a family firmly rooted in the Lutheran faith, did not allow their daughter's decision in 1906 to convert to Catholicism, ruin their love and relationship with both her, and her new husband.
This post caught the eye of this new cousin, who contacted me with additional thoughts and news regarding the post. I have to be honest, it usually takes a prompting such as her email, to force me to look more closely at some of the peripheral families in my Fassbender database. I know. Big mistake. One such family is the Schwamer family. Looking into my Legacy database, I realized that I had not "worked" on this family since 2001.
Who are the Schwamers? Carl and Charlotte Schwamer owned land in Section 19 in Center Township until their retirement in about 1900, when they moved to Ellington Township. The couple had five children live to adulthood: John, August, Caroline, Mary and Anna. Mary, the ancestor of my new-found cousin, married Jacob Loos, and Anna became the wife of Hubert Fassbender. The fascinating part? The Schwamers were Lutheran. Just as the Schultz/Steffen family, they were Lutheran as far back as could be traced. So, just like Ida would a few years later, 20 year old Anna Schwamer, "converted her preferred faith" some time before her marriage to Hubert on April 16, 1901, which took place at St. Joseph Catholic Church, in Appleton, Wisconsin. In the previous post I asked the question as to who might Ida's sponsor, "Agnes Fassbender" have been, Annie Fassbender, sister of Henry, or Anna Fassbender, wife of Hubert. At this point, I am leaning toward Anna Schwamer Fassbender, what better sponsor and advocate than a future sister-in-law, who had "Been there, Done That?"
The other burning question asked in that blog post, centered around what church might the Schultzs have attended. Looking at the map and reading the obituaries, I knew that there was a church in Stephensville, St. Paul Evangelical Lutheran Church, where 20th century funerals had taken place, but there was also this much older German Lutheran church, Trinity Lutheran, located kitty-corner from the Fassbender property in Ellington Township. This beautiful old church has a graveyard located next to it, but the Schultz, Steffen and Lemke family were all buried in Ellington Union Cemetery, not in the church graveyard. With the help of my new cousin, we noodled through it, and between the two of us we figured it out.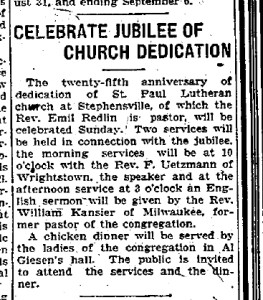 Neither church has a web presence, and adding to this the fact that Wisconsin loves to create havoc with how it assigns post offices to small communities, it took a bit of sleuthing. Just like the mailing address for anyone residing or working in Hollandtown, Brown Co., Wisconsin is actually Kaukauna, Outagamie Co., Wisconsin; Ellington Township's mailing address is Stephensville. At least both of these communities are in Outagamie County. The clue was the pastor, Rev. Emil Redlin, and the 1930 U.S. Federal Census. [1] The census was taken just a few months after the death of Ida Schultz Fassbender's mother. [2] Her obituary states that her funeral was held at the "Lutheran church at Stephensville with the Rev. Emil Redlin in charge." Heading to the 1930 census, I found Rev. Redlin living directly across the street from Trinity Lutheran Church on Cty O, Ellington Township. The same Trinity Lutheran Church that now bears the mailing address of Cty O, Stephensville. Digging a bit further, I found this article announcing the celebration of the 25th Anniversary of the founding of St. Paul Lutheran Church, located in Stephensville proper, with the Rev. Emil Redlin, pastor. [3] This also is a German Lutheran church, as indicated by the fact that they announced an "English sermon," which was given by former pastor, Rev. William Kansler, the minister who officiated when Ida's brother, August, married Mary Hartsworm on October 12, 1904. So this church, dedicated in 1900, was indeed the church that my Schultz/Steffen family attended, the Lutheran church in Stephensville. At least after 1900…
Now I just need to take a drive over to Ellington Township to see first-hand these churches that were such an important part of everyday life for the Schwamers, Schultzs, Steffens and Lemkes. In the meantime, Find A Grave gives us a look at Trinity Lutheran, and Google Maps allows us a glimpse at St. Paul Evangelical Lutheran church in Stephensville (now with the mailing address of Hortonville, as it is a small unincorporated community, located entirely within the town of Ellington.)
Now I need a nap.
14 Feb 2014, MORE TO THE STORY: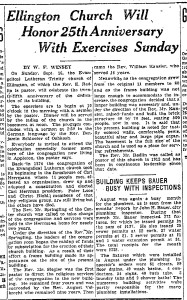 I did some digging this weekend, and learned a bit more about Trinity Lutheran's history. According to this Appleton Post-Crescent newspaper article, published September 14, 1923, the congregation was formed in 1874 with just eleven people. For the first two years they held services in the home of a founding member, Carl Herrmann. In 1876 a frame building was built on the site of the present church, and the brick building was erected in 1898.
Looking at family history. According to this article, Rev. Mr. August Volbrecht served the congregation from 1887 to 1896. As Ida's father passed away July 5, 1888, it is most likely that his funeral was held in the first frame church, Rev Volbrecht in charge of the service. When Ida's mother Mathilda, married William Steffen, on June 14, 1890, they would have been married in the frame church, and I know from their vital record that in fact Rev. Vobrecht did officiate at their wedding.
A few more mysteries solved.
SOURCES:
1930 U.S. census, Outagamie, Wisconsin, population schedule, Ellington Township, enumeration district (ED) 44-25, sheet 2, p. 92A, dwelling 28, family 28, Joesph P. Fassbender household; digital images, Ancestry.com (www.ancestry.com : accessed 25 Jul 2002); citing National Archives and Records Administration microfilm T626, roll 2603.
"DEATHS. Matilda L Steffen," (Appleton) The Appleton Post-Crescent, 9 Nov 1929, Saturday Evening, p. 4, col. 2. Cit. Date: 29 May 2001.
"Celebrate Jubilee of Church Dedication," (Appleton) The Appleton Post-Crescent, 11 Jun 1925, p. 7, col. 3. Cit. Date: 4 Jan 2016.