This is an archived post from "The Aroma of Bread," and was first published 29 May 2012.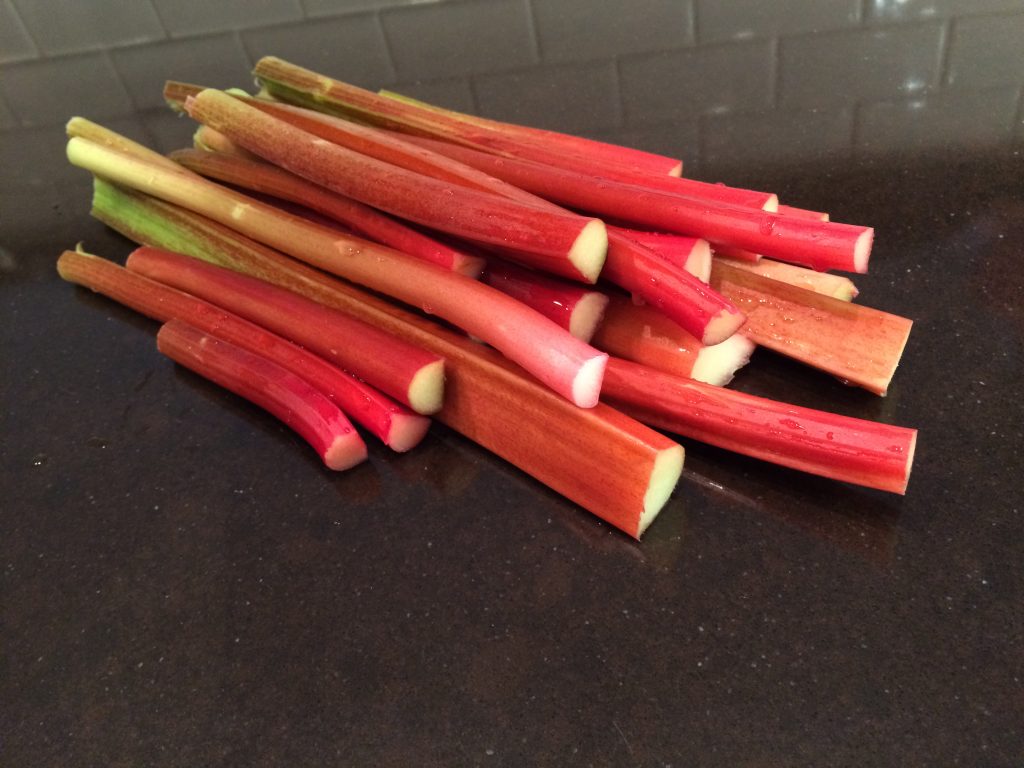 Kate's Post.
When mom and I were trying to think of what to post next, I went through all of the foods that grandma made that I miss. Rhubarb was the first to pop in my head. I don't think I have had Rhubarb Sauce since the last time she made it. Her rhubarb was like her apple sauce and strawberry jam, if it was not canned right away, it was devoured faster than it was made.
The rhubarb was not just any rhubarb, but picked from a garden that sat almost on the property line between Grandma and Poppa's house and Frank's house. It was planted and cared for by Frank up until he died. It is my understanding that he planted it for grandma. Frank in the eyes of a young child was an interesting man, who would show up at the door off of the patio, and from time to time Grandma Marie would bring him baked goods. I remember the time he showed me the "famous" train set after I had gone over there with grandma to deliver some of the latest sweets that come from the oven. Well, back to the rhubarb. Picking the rhubarb was one of the jobs that Grandma allowed the grandchildren to do. We would go out with her and pick what we would need, go back into the house, and she would bake a pie with it, or make what I remember most, the sauce.
It was never too sweet or too bitter and I looked forward to it. I would always watch her, trying to take it all in, how she would move through each step of the process. I wanted to be able to cook just like Grandma Marie.
While we don't have the recipe that Grandma Marie used (Grandma! Where is your recipe box?), we found this one in the cookbook that she must have received as a wedding present: The Settlement Cook Book. The way to a man's heart, published in 1944. On pages 333-334 is this method:

RHUBARB
No. 1. Sauce
Wash, cut off leaves and stem ends of rhubarb. If tender, do not peel. Cut in 1/2 inch pieces. To 4 cups of rhubarb, take 2 cups of sugar; or pour boiling water over the rhubarb, let stand 5 minutes, drain, and use only 1 1/2 cups sugar. Place in saucepan with just enough water to keep from burning; cook until soft. Flavor with grated yellow rind of orange. Or, boil 2 cups sugar and 1 cup water to a syrup, add rhubarb, let boil a few minutes until tender, but not broken.