Grasshoppers for Everyone!
This is an archived post from "The Aroma of Bread," and was first published 17 Jun 2012.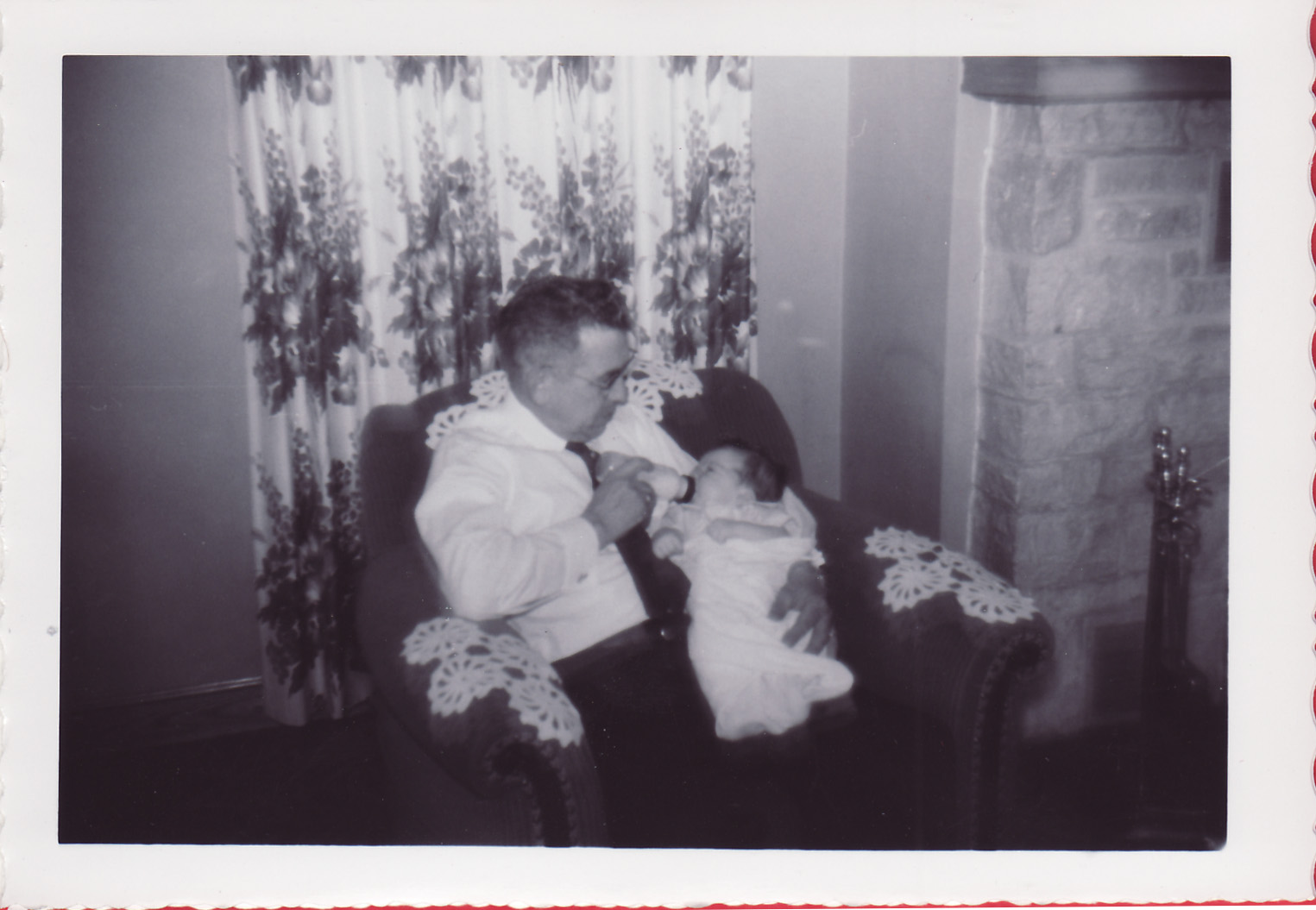 Today is Father's Day, and in honor of today this post is about Butch. I scrolled through the photos that have been scanned searching for one in which he was pictured with all four boys. All but impossible to find! One or the other was always missing. So instead I have chosen an image of Butch that is very familiar to us, him sitting in a comfy chair feeding a baby. What makes this image so special is that it is not a grandchild that he is so lovingly gazing at, but his own baby son.
But on with the post:
My father-in-law loved to entertain. He loved nothing more than to arrive home and announce to Marie that he had invited a few people over for food – be it dinner, hors d'oeuvres or maybe just drinks with the ever present cheese.
He also loved to invite everyone to the "New Bar" for a Grasshopper after a Saturday night dinner at Van Abels. We would get up from the table and he would be leading the way, encouraging all to follow him, and he would start taking orders and telling the bartender what we would need. For him the perfect end to an evening, was more great conversation and relaxing with the people he loved.
While that is MY memory of Grasshopper drinks, easily retrieved from the bartender, Gary remembers the night that his dad played bartender. He and Marie were entertaining on the patio one beautiful summer evening, most likely Hank and Syd, the Van Abels, and other old friends were gathered in the balmy air. As dinner wound down it was time to take the orders for Grasshoppers. Getting an enthusiastic response, Butch headed into the kitchen to start mixing. While getting out the blender, his eye fell on Marie's Mix-Master…..hmmmm….he could make quick work of getting everyone their drinks if he used the Mix-Master over the blender. Quick quantity was what he was after!! I can just imagine his giggle, and the sheepish look on his face as Marie walked into the house to hear the whirrrrr, struggle, whirrr, and then wisps of smoke coming out of her prized machine. Needless to say, this was just one of many kitchen experiments that didn't go quite as planned.
Butch's recipe for Grasshoppers consisted of 1 part Creme de Menthe, 1 part White Creme de Cacao and 1 part vanilla ice cream. Whip in a blender till smooth.