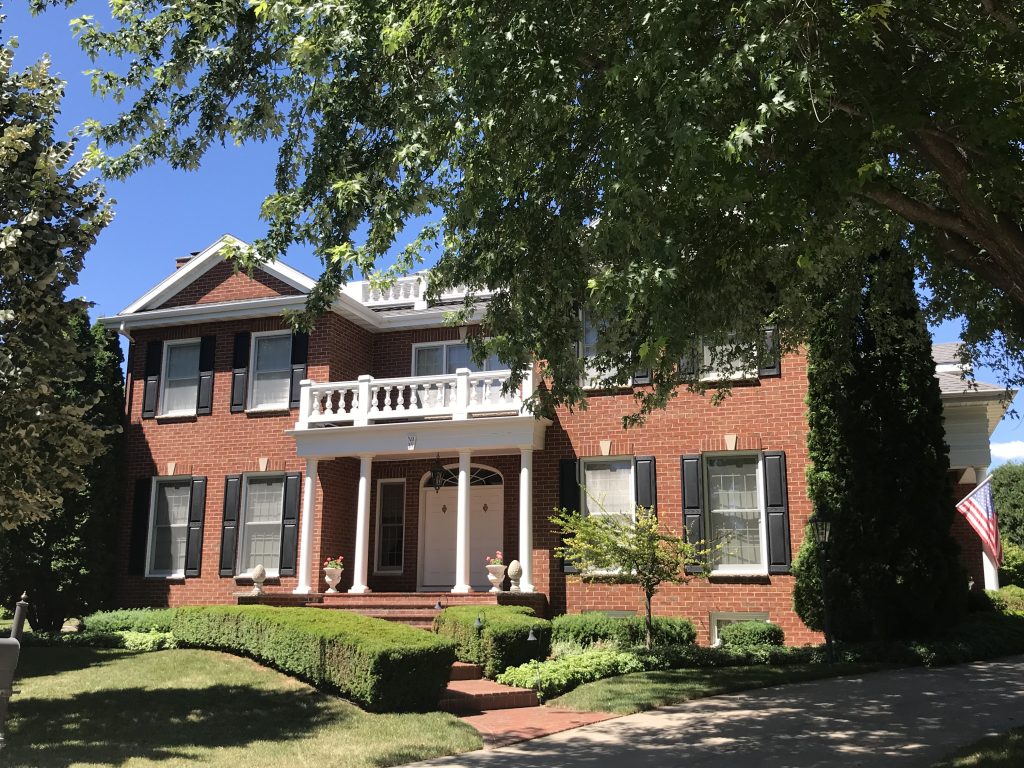 Today I will continue to explore the listing for our previous home at 15 Pinewild Court: "Located on a quiet cul de sac is where you will find this Federal Style Home. Exceptional finishing both inside and out. Impressive all brick exterior. Side loading garage. Private yard w/beautiful garden. Stunning entrance w/turned staircase. Formal & informal spaces. Prized kitchen w/commercial appliances. Fabulous 3 Seasons Rm w/1 of 6 fireplaces thru out. Cozy hearth Rm, Piano space, 1st Fl. Office, Grand Master Suite w/private patio. Finished LL for family fun. Garage can accommodate 3 cars."
One family's "1st Fl. Office" is another family's Library.
As we designed the home in 1993, we took a close look at what we loved about our current 1938 character home. This home had a small office in the front of the house that also doubled as a den. This knotty-pine paneled room had one full wall that held a built-in desk with storage and shelves. We loved the coziness of this room with its large wing chairs and the desk space for bills and other paperwork. As we also ran a small business from the house, we had a computer, and when we had finished the basement we created a corner workspace to hold the monster computer monitors of the day, and a drawer that housed the large dot matrix printer and it's huge box of paper. Those were certainly the days! And as for the business? The main office in my in-law's home held the "main" computer, and I remember the early days when my brother-in-law would have a question about what he was working on. He would call me on the second line, he would tell my mother-in-law that we would be using the house line, and I would dial in using PCAnywhere to take a look at his question. HA! We thought we were so high-tech, little did we know the changes that would happen in just a few short years.
We also had books, well, I had books, boxes of books. Knowing that we would need a designated computer space, a desk for Gary, and a place to hold what was then seven-ish boxes of books, we knew we wanted a library. Floor to ceiling storage for books and office files, and a corner desk to accommodate the huge monitors of the day, and a spot to hide the dot matrix printer with its box of paper. As we thought about the room, we knew we also wanted a fireplace.
The fireplace took a bit of figuring as the wall for the fireplace was the wall common with the family room, and that wall already was designated for the family room fireplace. Do we do side-by-side fireboxes? That placed one or the other in an awkward, not centered, sort of way. We settled on a two-sided extra large fireplace to accommodate both rooms.
The design complete, we knew we wanted this to be a cozy room for our family to gather. The living room sofa had been purchased for perfect scale in our current home, and was also the perfect size to fit in the living room, it just needed to be reupholstered. And we chose a deep dark green for the walls and carpet to give it the warm feeling we were going for.
This room so lived up to our expectations! We spent hours and hours in the winter in the library with snacks or hors d'oeuvre dinners in front of the fire. The corner desk turned into a sleeper great design choice as the kids started to use the computer, then the internet for school projects. I could be cooking in the kitchen and see the monitor from there to answer questions, or just to make sure they were making safe choices. The biggest change we made in the room was to move Gary's large desk that sat nestled in the bay window upstairs to our bedroom and place his grandparent's library table in its place. Other than that, it was just making adjustments to our growing book collection.
When we moved it was a huge task to sort through what books were going with us, and what books needed to be donated, or sold to Half Price Books. Now that we are here in Rhode Island we are designing our next library. The maid's quarters on the 3rd floor offer us the opportunity to create a wall of bookshelves in the eaves of one of the rooms. This transition is on the list for this winter, as the summer is the time for outside projects such as restoring windows and getting the house painted. I do so miss the ability to just walk into the room for a book that I know we own and I know has the answer to a question that is being asked. Hopefully, we will soon be able to unpack the many boxes that fill the closet in that room. For now, I have many memories of having once owned a home that housed a library.