The Cook Family Photo Album
In 2003 my mother, Emmie Lou Tapper Sternitzky, took on the monumental task of sorting, identifying, and cataloging the Cook photos that she and my father had been given to archive. She did an amazing job with these 297 images that she included in her photo book "The Cook Family Photo Album." Through the years as my research has expanded, I have made notes confirming dates, correcting dates, identifying before unknown people in photos, and just enjoying the hard work that went into what I hold in my hands.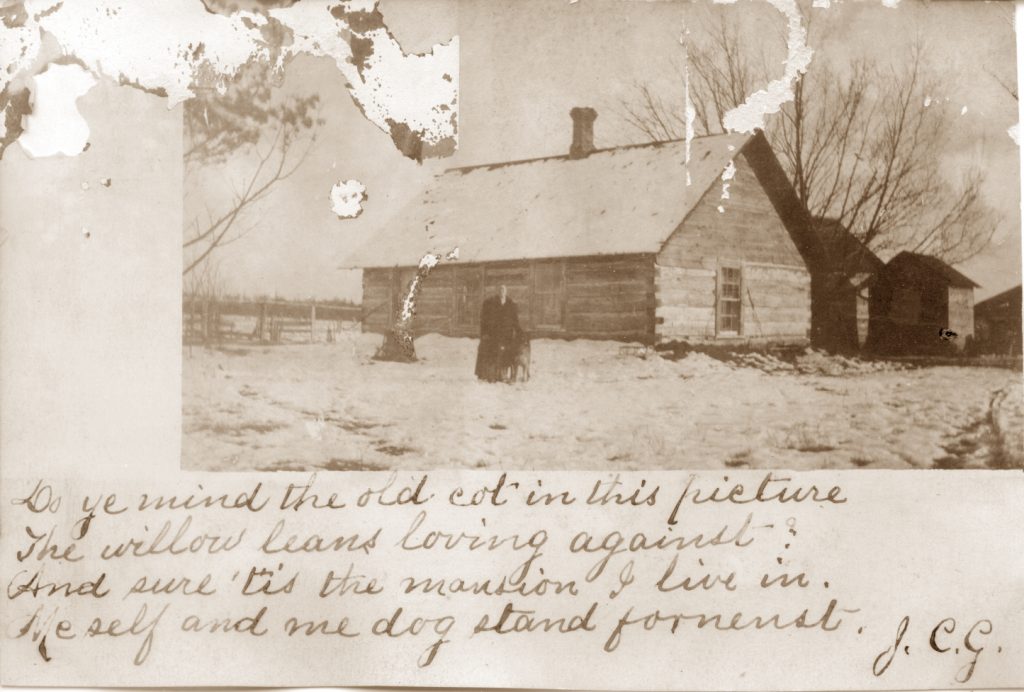 The other day I was again going through the book, as I knew she had included a map that I wanted to look at when I was stopped by a postcard that had been saved by my great-grandmother, Effie Josette DuCate Cook. She had received New Years' greetings from J. C. Gillett, the photo postcard being postmarked in Unity, Marathon County, Wisconsin, January 2, 1908. Moving on to look at the 1901 map, I noticed a J. C. Gillett living on 120 acres in Section 5, Brighton Township, across the street from George and Lewis' land in section 6. Who was this J. C. Gillett?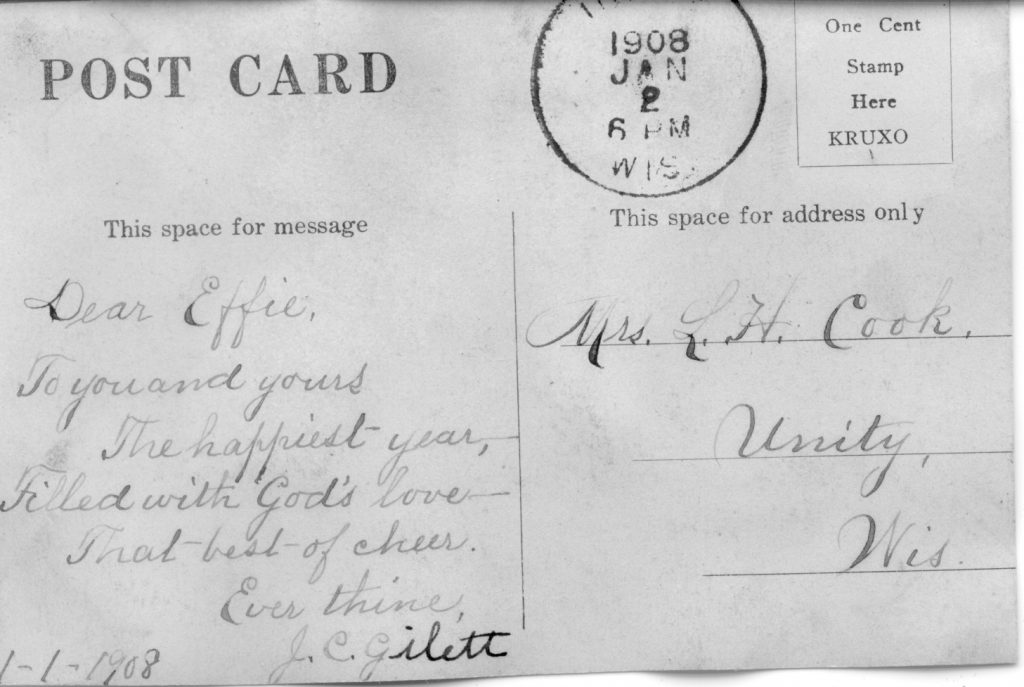 I started the easy way, the 1900 United States Federal Census entry for my great-grandparents.[1] And there she was, listed as Jane C. Gillett, head of household, age 54, widowed, mother of 3 children with 2 living, born in England, immigrated in 1850, working as a school teacher, owning free of mortgage, a farm. Living with her was her son, Fay C. Gillett, age 23, occupation a farmer.
This sparked my interest to learn a bit more about this woman, why was she sending such sweet New Year greetings to her neighbor? Imagine my surprise when the pieces all fell into place. Jane, really Jennie Clara Chaney Gillett, was born in England in February 1846. She married Fayette Clark Gillett on March 24, 1875, in Forest, Fond du Lac, Wisconsin, and they had three children. Fay, who I have already mentioned born in 1876, Elizabeth Ann born July 28, 1878, and Jennie C. Gillett was born May 3, 1880, all in Forest. Sadly, they lost Jennie on January 12, 1881. Fayette passed away on August 21, 1889. He and Jennie were buried in Forest Cemetery, and this is where Jennie and Fay would return for burial.
So how does this tie the two women together? Remember Jennie's older daughter, Elizabeth Ann? She married George Sewall Cook, the brother of Lewis!! A family postcard. I find it interesting looking at the back to note that the card was postmarked, but no indication that it had ever been stamped. I wonder if Jennie walked into the post office, handed her penny and the postcard to the postmaster. He took the penny, stamped the card, and tucked it into Effie's cubby for her to pick up.
By 1920 Fay had retired from farming, and he moved with his mother into a house on West Front Street in the Village of Unity. Here they would spend the rest of their lives. (I have to admit that I have not checked to see if the address stayed the same. They may have moved households). Jennie passed away on April 13, 1924, and Fay would live until November 17, 1945.
The New Years' greeting sent in 1908 is now part of my collection, and it is so much fun to know a bit more about this woman standing in her yard with her dog.
Sources:
1. 1900 U.S. census, Marathon County, Wisconsin, population schedule, Brighton Township, enumeration district (ED) 72, sheet 1, p. 27A, dwelling 9, family 9, Lewis H. Cook household; digital images, Ancestry.com (www.ancestry.com : accessed 25 Mar 2005); citing National Archives and Records Administration microfilm T623, roll FHL microfilm: 1241798.