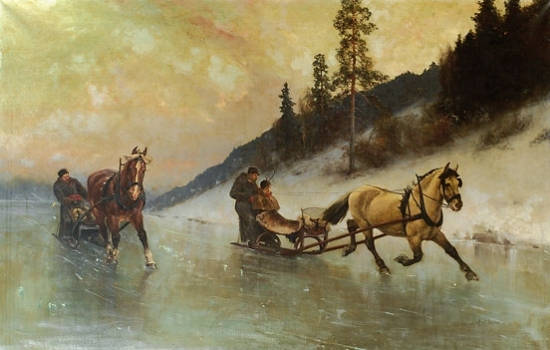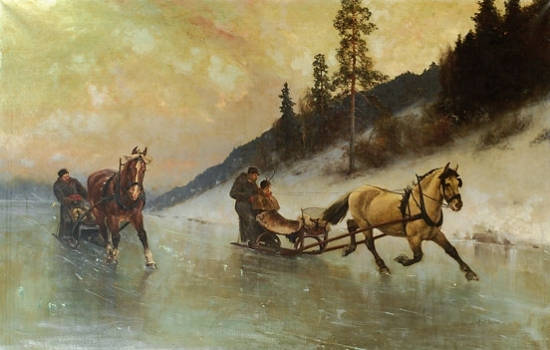 Each year as Lake Winnebago freezes, plans are made for that year's road system, as local fishing clubs map out the intricate, and extensive, roadway that will get fisherman and their vehicles out onto the ice. In 2018, about 75 miles of roads were designed and kept plowed by the 20 fishing clubs that create the ice fishing community. [1]
2018 was a cold year and the 131,939-acre lake that stretches 30 miles long and about 10 miles wide, had ice in some spots that measured 30 inches thick. Discarded Christmas trees are used to line routes to make navigation easier, especially at night, or during years when there is little to no snow cover. Bridges are custom built to span the cracks that appear, and these need to be moved frequently as the ice conditions change, and club members report that the ice is constantly moving, especially on windy days when you can feel the waves as you cross the ice.
The ice fishing clubs are not the only ones using the lake as a roadway, as a road is also created and maintained as a quick way to travel from Quinney in Calumet County to Oshkosh, Winnebago County. This 10-mile road connects the two communities and cuts almost 30 miles and 45 minutes off of the trip taken on traditional roadways. [2]
The idea of this ice highway is not a new one. Oshkosh retailers were thrilled in December 1910 to learn of a sled line that would run across Lake Winnebago from Stockbridge, Calumet County on the east shore to the city of Oshkosh. [3] On December 10th a group of four Stockbridge men started to map out the 10 3/4 mile route between the two communities. It took them just shy of four days, Saturday, Sunday, arriving in Oshkosh at noon on Monday. "They came across with one team and a bob-sled and every twenty or twenty-five rods along the way they set up in the ice a small evergreen tree or bush which would act as a guide for the wayfarers to come after them." "Holes were cut in the ice and the trunks of the trees firmly placed in the holes so that evergreens would remain upright throughout the winter, no matter what winds or snow storms may try to topple them from their support. [4]
The 1910 road builders measured the ice as they made their way towards Oshkosh, and discovered that the thickest ice was at the east shore, while the thinnest ice was near Oshkosh. They speculated that the reason for this is the water is deepest near Stockbridge and much more shallow on the Oshkosh side. They stated that they would "easily see the bottom all the way to shore from a point two miles out." [5]
That year other roads were planned, as the Cook & Brown Lime company was constructing a road from the brickyard near High Cliff to Appleton, Outagamie County, and another road was planned from Calumet Harbor to Oshkosh.
Oshkosh was very excited for the opportunity that the ice road offered them as "it will be possible for east shore people to do much Christmas trading here." In the summer the residents travel to Oshkosh by steamboat, and now in winter, they can make the trek across the ice. "It requires about two and one-half hours time to cross the ice with a team hauling a loaded sleigh at a pair pace." [6]
Two and a half hours one way by sleigh in 1910. Looking at a Google map, the route from Stockbridge to Oshkosh via WI-55N is a distance of 39.9 miles and would take 47 minutes by car. Hard to believe that the author of the 2018 article had his facts fully researched as he stated that the ice road cuts almost 30 miles off of the trip. He further stated that traveling 25 MPH while on the ice reduces the length of the trip by 45 minutes. Either way, using the lake roads as a way to get to Oshkosh from Calumet County certainly saves time.
SOURCES:
James B. Nelson, "Lake Winnebago's winter roads offer access to fishing shacks, speedy commuter routes," The Milwaukee Journal Sentinel, 14 Feb 2018; digital images, Milwaukee Journal Sentinel (https://www.jsonline.com/story/news/local/wisconsin/2018/02/14/lake-winnebagos-winter-roads-offer-access-fishing-shacks-speedy-commuter-routes/1079051001/ : accessed 31 Jan 2021).
Ibid.
"Sled Line to Run Over Winnebago," Appleton Evening Crescent, 15 Dec 1910, Thursday, p. 2, col. 4; digital images, Newspapers.com (www.newspapers.com : accessed 31 Jan 2021). 
Ibid.
Ibid.
Ibid.