Samuel A. Cook, who up to this point we have been calling S. A., as that is how he most often appears in print, plus over the armory, and most places we look, it is S. A. But I would have to bet that his wife, his siblings, his mother and father, didn't call him that, they called him Samuel. Or Sam. As I continue to study him, and get to know him, I think I will call him Samuel.
Samuel's son Harry (Henry Harold), married Martha Wheeler Paine, in a small private ceremony which took place in her family home in Oshkosh, Winnebago Co., Wisconsin, on June 30, 1917. Martha is the daughter of Edward Wheeler Paine, and Elizabeth Bonney Hosford Paine. The Paines were a prominent lumber family in Oshkosh, Edward, along with his brother, Nathan, owned and operated the Paine Lumber Company. (It is Nathan Paine and his wife, Jessie Kimberly, who built, and then donated, what we now know as the Paine Art Center and Gardens).
After an extended honeymoon, the couple settled in Alexandria, Madison Co., Indiana, where Harry had been living and working for the past 16 years or so. He was vice president, and general manager of his father's paper mill, the Alexandria Paper Co. Life was good for the newlyweds, and soon they were excited to let their family know that they would be expecting a baby in July 1918. Sadly, Samuel would not live to meet his grandchild, as he suffered a "stroke of paralysis" in December 1917, and never fully recovered. He passed away at his home in Neenah, Winnebago Co., Wisconsin, on April 4, 1918.
It was with joyous hearts that Harry and Martha welcomed their son, Henry Hosford Cook, into the world at 12:50 a.m. the morning of July 13, 1918. Martha had made the decision to give birth in Chicago, Cook Co., Illinois, checking into Presbyterian Hospital. [1] Later that day, Harry traveled back to Alexandria to attend to some pressing business matters, and to take a moment to share the joy with the paper mill employees. He and Martha had printed a small card announcing the birth of their son, and to which they had attached a $10 bill. The card reads: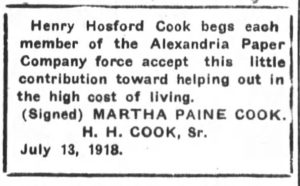 An employee at the time, Robert W. Gaither, when interviewed in 1970, had this to say about that day: "'I remember so well,' he said, 'when Harry sat on the steps of the old office building and gave everyone who came through a ten-dollar bill.'" [2] In 1918 there were approximately 160 employees in the company, so Harry handed out $1600.00, or $25,352.16 in 2016 money! Each employee receiving approximately $158.45. [3] 
Over the next few years, Harry spent many days and weeks traveling on business for the mill. During his extended time away, Martha would pack up baby Hosford, and head to Oshkosh to spend time with her parents, and when Harry was scheduled to return, the couple would meet up in Chicago, and travel back to Alexandria together.
Tragically, in late January 1920, while visiting New York on business, Harry came down with flu-like symptoms, and then was hospitalized. Doctors later diagnosed his condition as "sleeping sickness," a form of lethargic encephalitis. An article published in The Cambridge Sentinel states that the symptoms begin with fever, which can last two to five days, followed by a period of subnormal temperature, sore throat and chest cold. "In marked cases the lethargy was accompanied by heaviness of the eyelids, pain in the eyes and blurred vision. Headache was a common symptom, and rigidness was characteristic of the early symptoms." This is just the first stage. What follows is the patient is often "unable to make any voluntary movement on account of great muscular weakness; the face is quite expressionless and mask like, and there may be double facial paralysis. The patient is in a condition of stupor, although true sleep is often not obtained." There was no defined treatment, and the patient was "given to understand that his convalescence will last at least six months after the beginning of the illness." [4] Cases of sleeping sickness were found in both New York, and Chicago in 1919, so it is only speculation where he could contracted this contagious disease. 
When Harry was well enough to leave the hospital, and New York City, the family headed together to Florida to give him time to rest and to recover. Unfortunately, as is often the case, he never was able to fully recover, and the effect the disease had on him both physically, but most importantly, mentally, caused him to never be the same person again, and thus he is said to have abandoned his family on July 22, 1920. [5]  This story deserves its own blog post, so let us move forward a few years in time.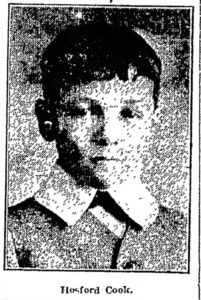 Hoping that her husband would recover, but knowing at this point they could not live together and that she needed to take care of her small son, Martha took Hosford, and moved permanently to Oshkosh to live with her parents. The years passed, and a routine was set between mother and son, and part of the routine was to spend a portion of the winter in Florida. In February 1927, they were enjoying the warm weather of Naples, Florida, with friends and relatives. It was a Wednesday, spent at the beach off the Gulf of Mexico, and Hosford was wading and swimming with friends, when he went out a bit too far, and was pulled into the undertow. Despite all efforts to save him, he drowned. I can only imagine the grief in which Martha sent off the telegram to her parents. And the unbelief that Edward and Elizabeth felt upon opening the door to receive the telegram telling them of their grandsons death, and when to expect the train carrying their grandson's body, accompanied by their daughter. [6] 
I have not been able to find a newspaper article that states the details for his funeral. It could have been large and public, or small and private. We may never know, but if I were to bet, I would bet it was small and private. He was buried in the family plot in Riverside Cemetery, Oshkosh, Wisconsin.
As winter faded into spring, then summer, and children started to flock to the neighboring beaches to play and to swim. Hosford's grandfather, Edward W. Paine, still wracked with grief, donated "three sets of life-saving apparatus" to the city of Oshkosh, and dedicated to his grandson. The three sets were installed at three city beaches, south side beach, Menominee Park, and Mary Jewel Park. "Each piece of apparatus consists of a large preserver to which is attached an iron ring to fasten around the arm. To the preserver is attached 400 feet of line, which winds on a large cylinder. In [case] of danger anyone may seize the preserver and carry or throw it out in the water. The stand is erected with a reel and handle, so that the preserver may be pulled in." Edward Paine also sent a set to Sarasota, Fla. "On each of the racks is placed a bronze plate with the inscription, 'In Memory of Henry Hosford Cook, Died Feb. 16, 1927.'" [7]
Hosford lived just a short 8 1/2 years, and this small, much loved little boy started his life with a gift to honor his birth, and he ended his life with a gift to remember his having lived. Both gifts were given in the hope that the gift would enrich the lives of the receiver. Make the world a better place.
Rest in peace, Henry Hosford Cook.
SOURCES:
FamilySearch, "Illinois, Cook County Birth Certificates, 1878-1922," database and images, FamilySearch (www.familysearch.org : accessed 4 Jul 2012); Henry Hosford Cook; Reference ID: 25709, GS Film Number: 1308838, Digital Folder Number: 004403113, Image Number: 01020.
Sue Martson, "Old Paper Mill Will Again Have A Heart Beat," The Alexandria Times-Tribune, 15 Apr 1970, Wednesday, p. 8; digital images, Newspapers.com (www.newspapers.com : accessed 19 May 2016).

www.usinflationcalculator.com : accessed 8 Jun 2016.

"Call New Malady Epidemic Stupor," The Cambridge  Sentinel, 3 May 1919, p. 3, col. 1-3 : digital image, Cambridge Public Library (http://cambridge.dlconsulting.com : accessed 8 Jun 2016).
"Mrs. cook Asks Court For Divorce Decree," The Times=Business, 5 Apr 1927, front page, col. 3; digital images, Newspapers.com (www.newspapers.com : accessed 10 Jun 2016).
"Boy Meets Death By Drowning At Florida Resort," (Oshkosh) Oshkosh Daily Northwestern, 17 Feb 1927, p. 4, col. 3. Cit. Date: 26 Mar 2003.
"Makes Gift to City," (Oshkosh) The Daily Northwestern, 2 Jul 1927, p. 2, col. 7. Cit. Date: 22 Jul 2003.