This past Friday and Saturday, I had the wonderful opportunity to network with other genealogists, and learn from Judy G. Russell (!) at the Wisconsin Genealogical Society's Gene-A-Rama. This year the Gene-A-Rama was held in Wausau, Marathon Co., Wisconsin, the birthplace of my father, Robert Sternitzky. I knew that I would have no time to do any research, but I did think I would have time to search out the church that my father and his family attended while living in Wausau. Thinking this would be an easy process, I asked my mom if she knew what church they were attending when dad was baptized. Not finding his baptismal certificate, she did find his Solemn Holy Communion card, dated May 14, 1944, and from St. James Catholic Church. BINGO! A quick Google search showed that St. James church no longer existed in Wausau. What happened to it?
It took a bit of digging, and a lot of disappointment in the lack of information available on the parish website, and also the diocesan website, but I figured it out. They had simply changed the name of the parish. Now in the world of consolidation of parishes, I am used to seeing parishes being re-named. An example is St. Katherine Drexel in Kaukauna, Outagamie Co., Wisconsin. St. Katherine Drexel is the consolidation of three parishes, but they still retain their individual identity by being called: St. Katherine Drexel, St. Mary Site; St. Katherine Drexel, St. Al Site; and St. Katherine Drexel, St. Francis Site, which is the parish located in Hollandtown, Brown Co., Wisconsin. In Wausau, the Eastside Parishes consist of St. Michael Parish, and Church of the Resurrection of Our Lord Jesus Christ (formerly known as St. James).
While I have not yet determined when and why the parish was re-named, I have learned that the present building was constructed in 1911-12, as the congregation had outgrown its present building. St. James had been organized in 1905 as the first English speaking Catholic parish in Wausau.
Checking the Mass schedule, I was disappointed to learn that it was a 6:00 p.m. Saturday Mass, while St. Michael's had the 4:00 p.m. Knowing that churches are usually open 45 minutes to an hour before mass time, I made the decision to attend St. Michael's for Mass, and then head over to Resurrection, hoping to get in. I had no problems navigating to the address: 621 North 2nd Street, and getting out of the car, I shot a couple of photos of the exterior: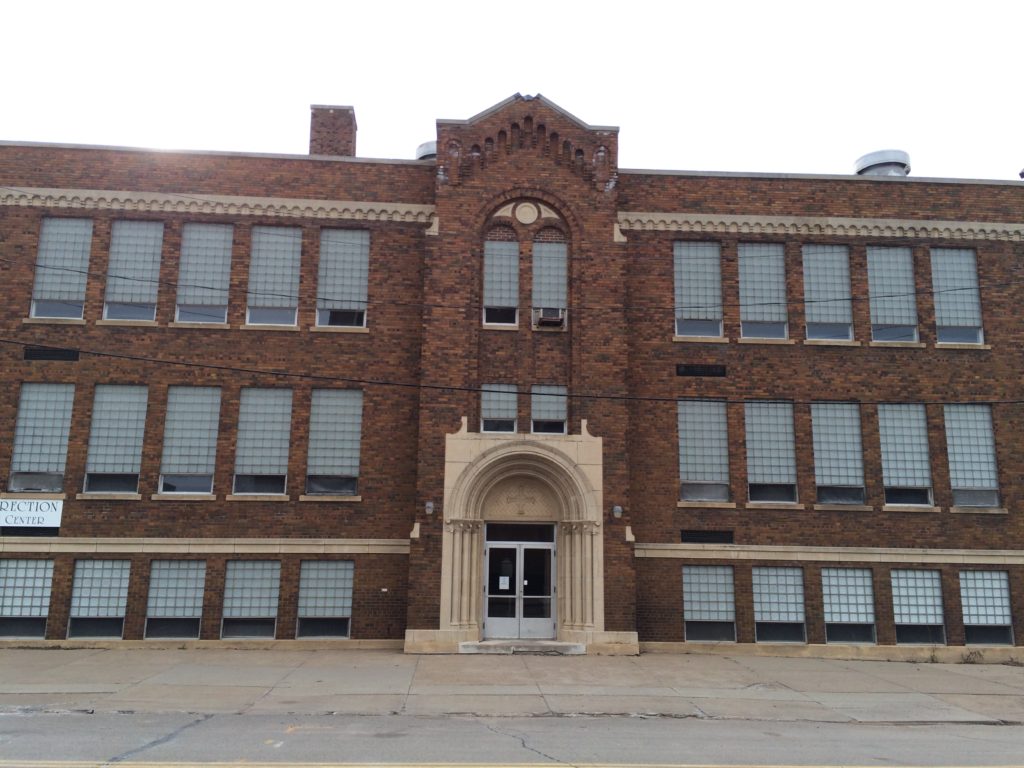 Testing the door, I found it unlocked, and so went in. The lights were still dimmed, and there was a woman praying near the front of the church, who I did not want to disturb. I quickly snapped a few shots, knelt and said a few prayers, and vowed to return at a time closer to Mass time so I could have better light. But until that point in time, I did find this website discussing the restoration of the interior of the church by Conrad Schmitt, and this flickr album showing the windows.
Directly across the street from the front entrance of the church, is the school. Dad would tell the story of how he would take the bus to school, and after school, or at lunch time, would head over to visit his Grandma Sternitzky (Christine Goerling Sternitzky) at her house on Steuben Street.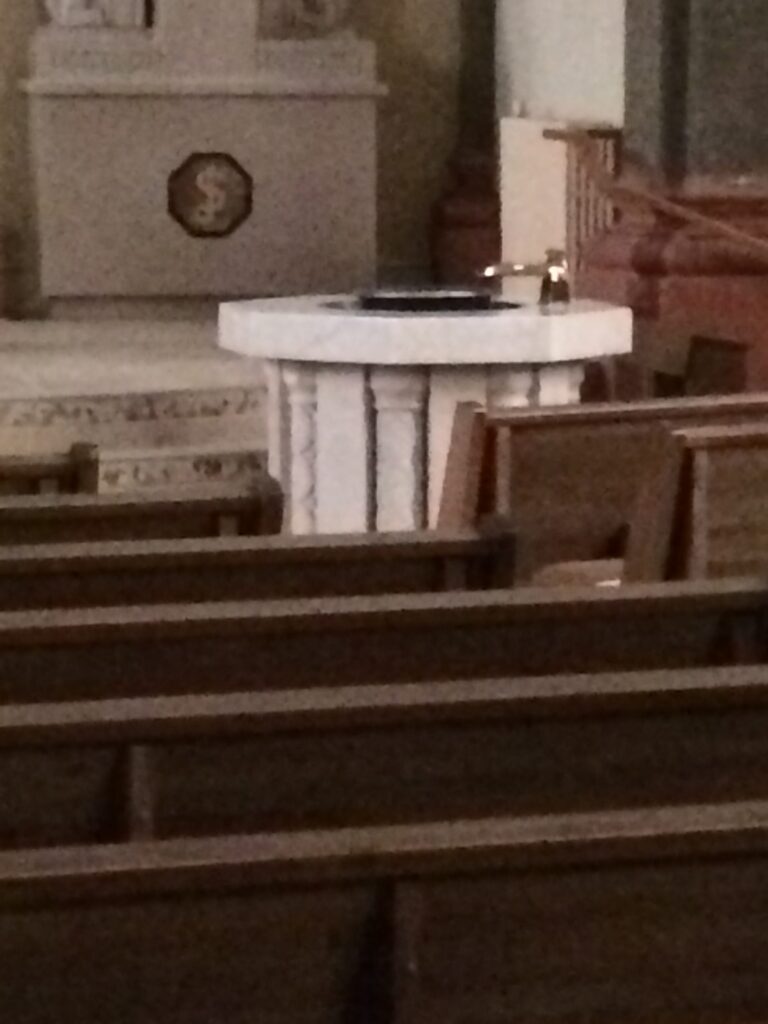 The Baptismal Font is still there, and appears to be original. Now I just need to be able to get close to it for a good photograph. Another item to add to the growing to-do list. Photo of the Baptismal Font in the Church of the Resurrection aka, St. James. NOTE: This is NOT the original baptismal font, please see comments below.
An Addition: Laziness set in yesterday, and so I didn't go in search of my great-aunt and uncle's address in Wausau, even though I knew my father would visit with them also; sometimes for a quick lunch during the school year. And it should be shame on me, as I never knew my great-grandparents, Robert R., and Christine Sternitzky, I did know my grandmother's older brother, Great-Uncle Russell Cook, and his wife Hattie (Dietzler). Aunt Hattie even attended my wedding! Here is the route dad might have taken to their home from school, and then back down to the Sternitzkys: