As a genealogist you get used to discovering stories about family long after they are gone. Most of the time it is enough to just know the story, to fill in voids in the family history. But every once in a while, you discover a story that you wish, oh you wish, that you had known before it was too late. This is one such story.
The St. Francis Schut is a Hollandtown tradition that dates back to 1849. It was originally held on the "Schut Grounds" near St. Francis on the second Sunday in August. As the Schut grounds are located so close to the road that leads into Hollandtown, the event has been moved to a clay shooting range, and the original grounds left as a historic spot. The Schut in a nutshell is you have the "bird" that has been placed on a high pole, and the participants/shooters take turns shooting directly at the bird till the last piece is shot down, and the King is crowned. Then everyone heads to Van Abels for dinner. Don't yell, I said it was a nutshell version.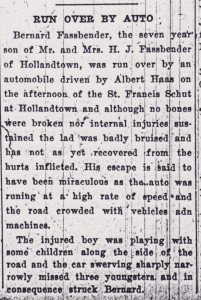 In 1920 the Schut was held June, and as happened every year, it was a popular event, cars and other "machines" lined the road. My father-in-law, Butch, was seven years old that summer and was playing with friends alongside the road. We know from newspaper articles that Henry was a frequent participant in the Schut, so it is likely that the whole family was at the Schut grounds enjoying a Sunday with friends and neighbors. According to this newspaper report, Albert Haas came down the road at a "high rate of speed" and as he moved through the pathway left by the parked cars "swerv[ed] sharply narrowly missing three youngsters and in the consequence struck Bernard." The article states that no bones were broken, and no internal injuries, but he was badly bruised.
Oh how I wish that I had found this in time to ask him about it. So many questions unanswered. Did the family know Albert Haas? Did he take responsibility for his actions? Granted Butch and his friends probably should not have been playing near the road, but Albert should have known to slow down when passing the Schut, and I find it hard to believe that other people were not standing in or near the road. But mostly I wonder how he felt, how long did it take for him to recover, were there any lasting effects from the accident.