Yesterday I presented virtually at the 13th Annual Minnesota Northstar Genealogy Conference. What a difference it is to present to an audience you cannot see, but know are there because the number of attendees is listed on the Go To Meeting dashboard.It was a great conference, and I am glad that I have my first virtual presentation under my belt. I look forward to doing it again, and I am hopeful that we will soon be meeting in person.
While tweaking my Maps presentation for this conference, I found a map that I feel adds, well, "another layer to the story" of the Lady Elgin. This 1857 Map of the Milwaukee & Superior Rail Road and its Connections. [1]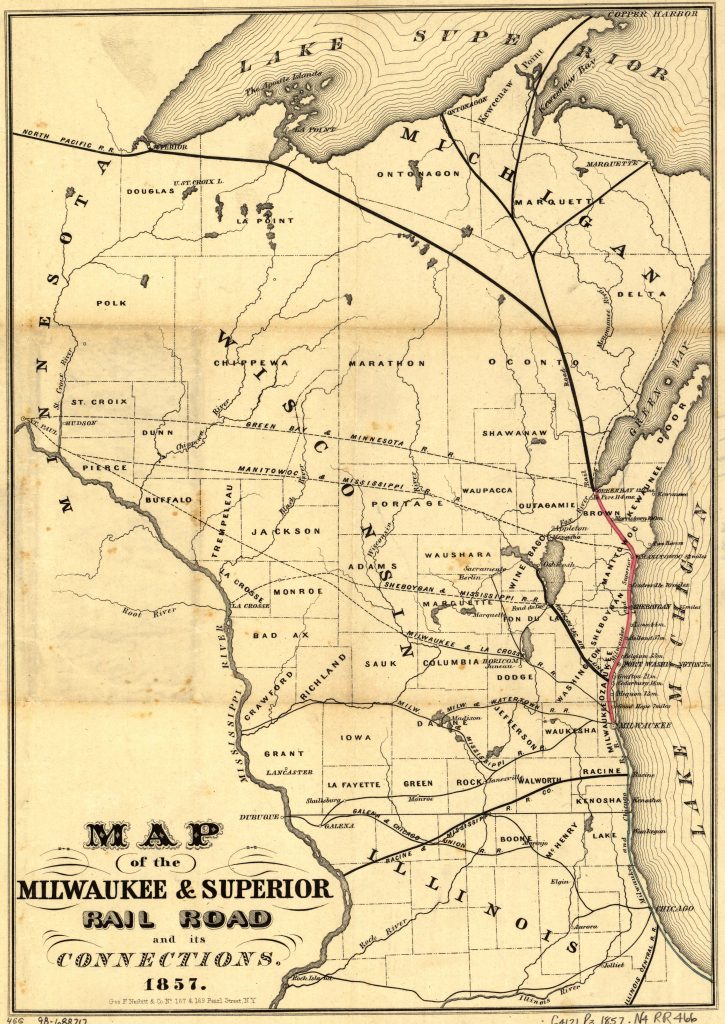 Trying to imagine what happened that day when the news of the disaster reached the Cook household, my mind goes in two directions. William might have been waiting at home on the farm in Stockbridge, Calumet County, with Sarah, James, Samuel, Alfred, Albert, and Henrietta. Or just as likely the family had traveled to Fond du Lac, Fond du Lac County, where both Mary Catherine and Watson were living. Kate had married Conner W. Healy in Fond du Lac on 14 Dec 1858, and Watson married Judith Louisa Drake in Stockbridge on 12 Oct 1859.
If I were planning this return welcome, I would choose the latter, as Jane, Elizabeth Ann, and Jacob would have been exhausted from their long journey home. First boarding the propeller The Sun in Collingwood, Ontario, Canada, traveling through the Great Lakes to Milwaukee. Once arriving in Milwaukee they would have caught the Milwaukee and Superior Railroad line to Cedarburg. In Cedarburg, they would have transferred to the Fond Du Lac Air Line to Fond du Lac. If you look at Calumet County lined in pink, you can see that the Manitowoc & Mississippi Rail Road was already entering the county, but was still a considerable distance from their home in Stockbridge. Arriving in Fond du Lac they would have been met with the whole family and been able to celebrate their return while taking a much-needed rest from their travels.
What prompts me to write this post is not this anticipated happy welcome home, but the trip that William, Watson, and Jacob would make. The route they would have taken both going to Chicago, and the sad return trip home.
As I see it in my mind's eye, the news reached Fond du Lac, and it was from there that William and Watson boarded the Fond du Lac Air Line, riding the line to Cedarburg where they transferred to the Milwaukee & Superior line. Reaching Milwaukee, they boarded the Milwaukee and Chicago Railroad and headed south to meet Watson. Was he waiting for them in Racine, Racine County which is where he had been rescued? Or had he traveled to Milwaukee to wait. I would guess that after so many hours in the water being battered and thrown around by the waves, he was waiting for them in Racine. One can just imagine the hugs, the tears, and the joy of seeing Jacob. But also the tears and fears of what still was ahead of them when they reached Chicago.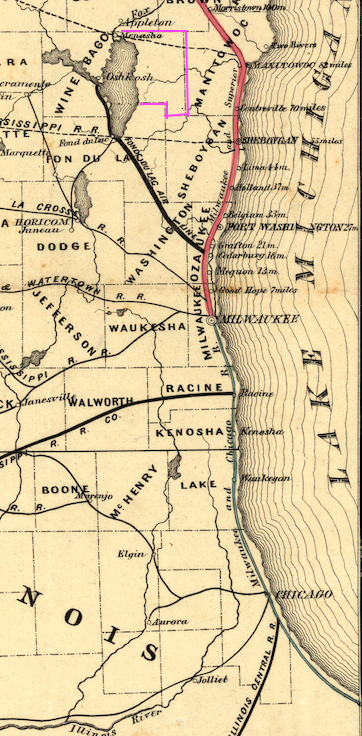 This brings to mind another question. In his own words, Jacob states: "It was about 2 o'clock in the night when the boat went down and about 5 the next afternoon I drifted in near enough to the shore to reach the end of a pole held out to me by a man suspended by a rope in the hands of several others from the top of that high clay bank south of Racine." [2] Did the family stay at home till they heard from Jacob, or did they immediately prepare to leave for Chicago? 
I would guess that plans were made for the younger children to remain with Kate and Judith. Watson and Judith had a newborn son. Arthur Watson Cook was born 11 Jul 1860, and Kate and Conner's little boy, Henry George Healy, would be celebrating his first birthday on October 4th. Two little nephews to keep entertained would help pass the time.
The Lady Elgin was struck around 2:00 a.m. Saturday morning near Waukegan, Lake County, Illinois, then drifted south towards Waukegan, Lake County, Illinois where "it began to go to pieces." [3] The high winds and waves sent Jacob north towards Racine, while other passengers went south towards Chicago. 
Just look at how the railway line hugs the shore of Lake Michigan! Joining Jacob in Racine, most likely on Sunday, September 9th, the three men traveled the rails to Chicago. I can just imagine Jacob looking out the window of the train noting landmarks that he could just see above the waves as he clung to "a piece of plank about eighteen inches wides by six feet in length." [4] All three looking desperately for any sign of Jane and Elizabeth out on the water. Would Jacob have recognized the spot where the Lady Elgin was hit by the Augusta? Or was it too dark for him to recognize an exact location? 
Elizabeth Ann's body was recovered on Tuesday, September 11th and brought with the 14 other bodies recovered that day to the Chicago Courthouse, to be laid out for identification. As Watson described it in a letter to his sister, they did not recognize her the first day, but upon returning the next morning after she had been "washed" and put in a coffin, they found her. [5]
We do not know how long William and his sons stayed in Chicago, watching, waiting, praying that they would see the face of Jane. But at some point, they would have arranged for Elizabeth Ann's coffin to travel north to Stockbridge. Most likely she was sent home as soon as she was recognized – you couldn't just take a coffin back to the boarding house, and park it.
And then the long, sad trip home. Riding the Milwaukee and Chicago Railroad north, past the spot at Winnetka where the Lady Elgin broke into pieces, past the spot near Waukegan where the Lady Elgin was struck, and following the bobbing path of Jacob to Racine as he clung on for dear life, hoping to be rescued.
Sources:
Nesbitt & Company, and Milwaukee And Superior Railroad Company. Map of the Milwaukee & Superior Rail Road and its connections. New York, 1857. Map. https://www.loc.gov/item/98688717/.
"An Appleton Man's Escape. His Mother and Sister Were Both Lost—The Former's Body Never Recovered," Milwaukee Sentinel, 4 Sep 1892.
"Graves of Lady Elgin Dead Desecrated," The Chicago Sunday Tribune, 26 May 1899, Sunday, p. 1, part 4; Editorial Sheet; digital images, Newspapers.com (www.newspapers.com : accessed 4 Jul 2018).
Ibid.
Watson Henry Cook (Fond du Lac, Wisconsin) to Loretta Elliott, Letter, 10 Mar 1861; privately held by CaroleAnne Prentice Chepurny. Also: https://www.familysearch.org/tree/person/memories/KC97-CQL