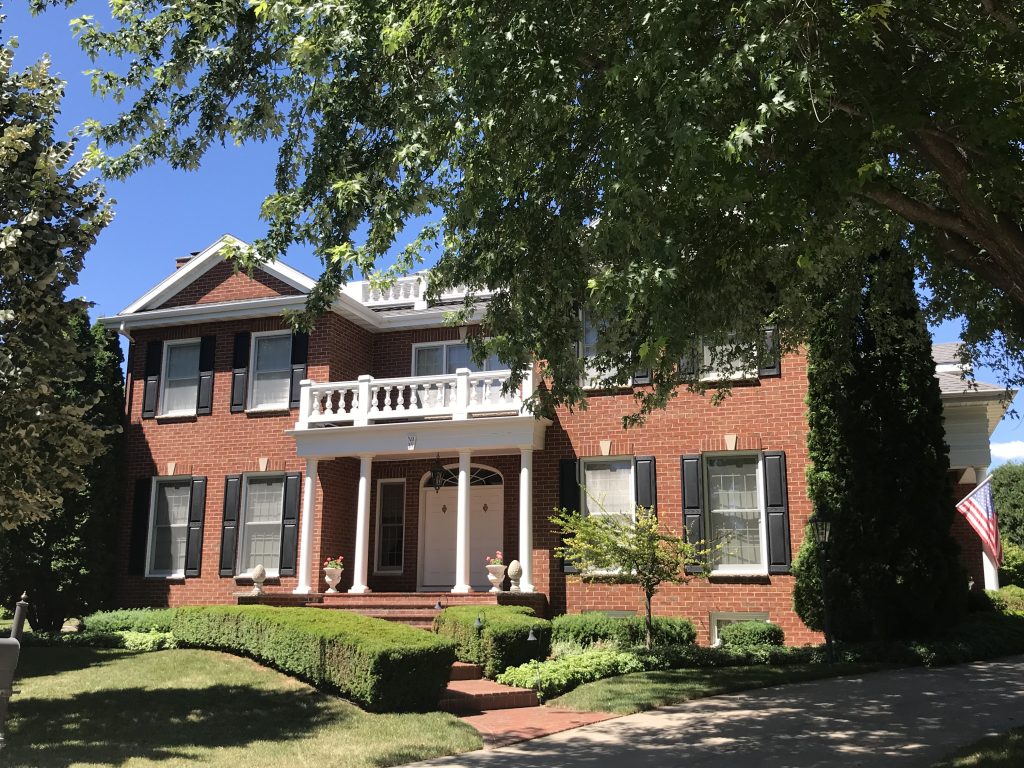 The listing read: "Located on a quiet cul de sac is where you will find this Federal Style Home. Exceptional finishing both inside and out. Impressive all brick exterior. Side loading garage. Private yard w/beautiful garden. Stunning entrance w/turned staircase. Formal & informal spaces. Prized kitchen w/commercial appliances. Fabulous 3 Seasons Rm w/1 of 6 fireplaces thru out. Cozy hearth Rm, Piano space, 1st Fl. Office, Grand Master Suite w/private patio. Finished LL for family fun. Garage can accommodate 3 cars."
Piano space. Our homes have always had "piano space." When I met Gary he owned a spinet, and there was space for it in his living room. This was the piano that we brought with us to Pinewild Court and the piano that both of our children used as they started piano lessons. As they grew both in size and competency, we decided that it was time to upgrade, and we purchased a Yamaha Studio Upright. This larger piano also found space in our home.
As the house was going up, I remember standing in the family room with Gary and our contractor discussing the progress. By this time we were wondering if the family room was too small, and so asked the question about the possibility of someday building out by blowing out the wall and adding the screen porch to the interior living space. Yes, was the answer. Followed by the statement that it would be about $150 now, or $1,000+ later. We decided to go ahead and add the additional header right away.
Ten years later it was time. We loved our screen porch but dreamt of a larger space. One that had a fireplace, a four-track window system to block out inclement weather and extend our use of the space, and room to spread out. Our children continued to play the piano, and we dreamt of upgrading our piano once again to a Yamaha C2 Grand. We discussed the design of the porch, and how we would transition the porch into an interior living space – a Music Room.
What I can relay in just a few sentences was actually the result of months of study, planning, visits to an architect, and talks with our contractor, now the son of our original builder.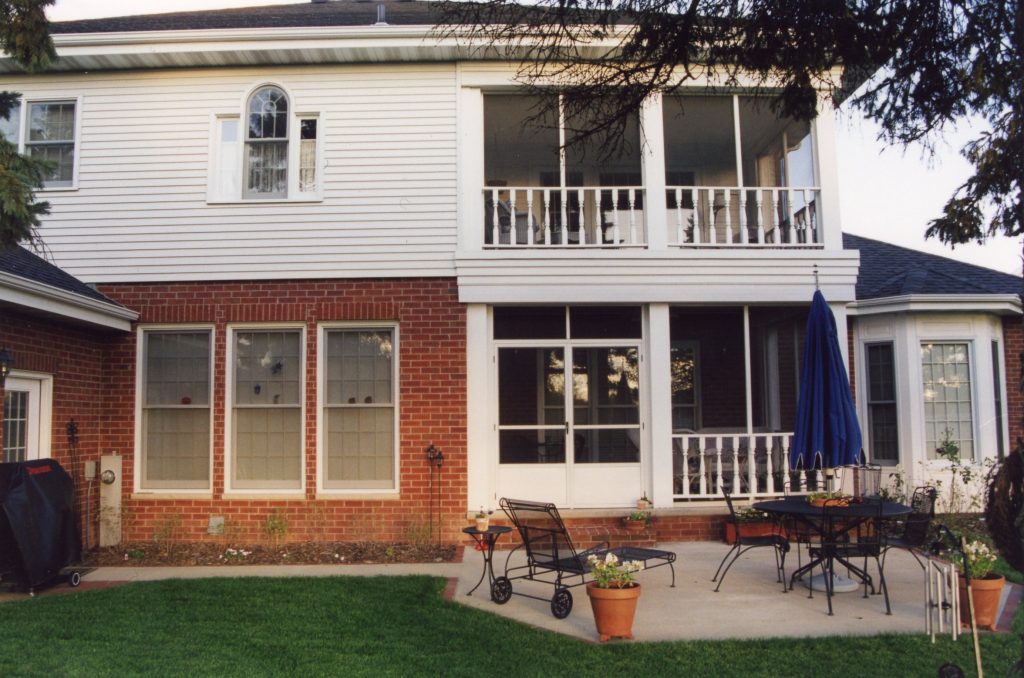 We started our time in the house with the original screen porch nestled in the L of our family room and breakfast room and was roughly 10 x 15', its sister porch, accessed from the master bedroom, was directly above. We accessed the lower porch through french doors through the breakfast room. These french doors would be re-purposed, matched with a second set, and used to access the new screen porch. The original window in the family room looking into the porch would be moved to the outside wall of the music room. The room would be entered from both sides through arched openings designed after the arch found at Carter's Grove Plantation in Virginia.
Work began in October 2003, and it was a super cold day in January when they finally opened the house to the outside. I was stripping wallpaper in the kitchen wearing a heavy Irish fisherman sweater with the fireplace in the family room roaring. Working quickly, they soon had the window moved into place, and the doors set in their frame.
A few weeks later and the wall was ready for Gary and me to free-hand the arch opening. We were also busy removing carpet as we planned for hardwood to flow from the existing kitchen and breakfast room into the family room and music room.
This new space was a beautiful addition to our home. The music room was a cozy place to sit with a cup of coffee or evening snacks with a glass of wine. Listening to our daughter play the piano was an added bonus. For us, it was more than a piano space, it was our music room.