This post was not part of the original blog "The Aroma of Bread," but I think that it belongs catalogued with these posts.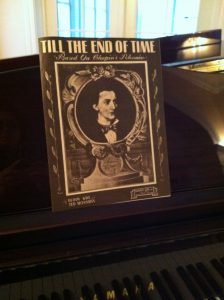 As we continue to work on preparing my in-laws home for sale, rooms are cleaned out and items tossed or prepared for the estate sale. Last night I attacked a box of sheet music that had resided in the attic for decades. Not being able to resist, I started sorting through the pages. I hadn't gone too deeply into the box when I hit gold! My mother-in-laws piano report card from when she was 16 years old and taking lessons back to back with her brother Arthur. Marie on piano, Arthur on violin.
The next item to make my heart sing was the 1945 piano music for "Till the End of Time." I had chosen this song to end the video I made about two years ago to honor my in-laws. How many people are lucky enough to possess moving images from a wedding that took place in 1946? I chose the song hoping that it had been a favorite, but figuring that I would never know. But last night I learned that they did enjoy this song. I still think it is a perfect way to end the video.