In May of 2012 I started a blog that I titled: The Aroma of Bread. A Place for our family to gather and share memories of Marie's kitchen. It began with scanning recipes from the cookbooks that we found in the utility room cupboards. Cookbooks falling apart, but many pages where we found handwritten notes about whether a recipe was "good" or where she was going when she made the dish. It didn't really take off, so I stopped after a while. Now I would like to delete that blog, but will archive the posts.
Today as we mark the sixth anniversary of the day after her passing, this post came to mind. So I will start here.
Archived post from "The Aroma of Bread," first published Saturday, 16 Jun 2012.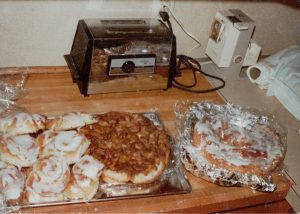 Time is moving so quickly. Here it is another Saturday, another weekend. A moment when life can slow down a bit, and we can think about a leisurely breakfast as opposed to a quick bowl of cereal as everyone runs out the door. Or maybe a special dessert to serve at dinner.
It has been almost a month since our family gathered to honor Marie with an "Irish Wake," and it was five months yesterday since her passing. Time passing.
Marie was known for her baked goods. I mean, she was KNOWN for her baked goods. People looked for her donations at church functions and funeral lunches. A testament to this, is a photo we found. It was taken by the Van Abels in March 1977 when Helen Baumann died. Baked goods, so prized that they found time to take a photo of them.
My strongest memory of her baked goods occurred the day after she passed away. Gary was already down in the kitchen making coffee when I headed down the stairs. I was almost to the landing when the most amazing aroma came wafting out of the kitchen – sweet rolls! As I hit the landing and turned to go down into the kitchen, I said to Gary, "I smell baked goods!" Gary looked at me in amazement, and said, "You smell it too!!?" We took that as a sign that Marie was home, and as we later joked with the cousins, baking for her first Newcomers Meeting.
What is your favorite memory of the wonderful baked goods that came out of her kitchen? We would love for you to share your story.
SaveSave
SaveSave
SaveSave
SaveSave
SaveSave