It has been many years since I last had the opportunity to stop at Hammond, Lake County, Indiana to visit the graves of my grandparents and great-grandparents. In fact, the last time was in 1999, and on our way home, Mom and I stopped in Tomah, Wisconsin to pick up our new miniature schnauzer puppy, Gretchen. Today in 2017, as we drove home from moving our son to Rhode Island, my husband and I did not have the luxury of time to stop as we drove by the exit, as we had to get home in order to pick up our 4 month old miniature schnauzer puppy, Lizzy, from where she was being boarded during the move.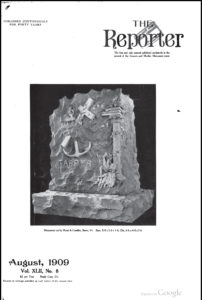 My great-grandparents are buried in Oak Hill Cemetery. In 1909 Anton Tapper placed a large, well massive, granite monument in the cemetery, the TAPPER monument. This monument, reported to be the largest monument in Oak Hill Cemetery at the time, weighs 17 tons, stands over 8 feet tall, and sits on a base that is 8 X 5'6." Cut by the Rossi & Casellini Company of Barre, Vermont, it was delivered and placed by the Ernst Wunderlich Granite Co., of Joliet, Illinois. It was "put in position without damage to a single shrub in the cemetery." (("Among the Dealers, Trade Changes and Work Being Done. Joliet, Ill," The Reporter, August 1909, 9, p378 pdf; digital images, Google, Google Books (books.google.com : accessed 2 Jun 2012).)) Anton was reported to have paid $1,500 for the stone to be cut and placed. (("The Rounder Says," The Hammond Times, 12 Aug 1908, Wednesday, p. 2, col. 5-6; digital images, NewspaperARCHIVE (www.newspaperarchive.com : accessed 26 Feb 2016).)) I find it interesting that the stone was described as being "a plain monument," but even more interesting, was the statement that "in the lot will be placed several concrete receptacles for the bodies which will repose there in the future." "When the coffin is placed in these receptacles they will be hermetically sealed with concrete several inches thick so that the bodies could only be removed by blasting away at the concrete." ((Ibid.)) I wonder what his reasoning was for this? Grave robbers?
According to records at the cemetery, Anton purchased 14 grave sites, with the monument covering three of them. I am not sure when he purchased the plot, but the cemetery records show that six graves have been filled: Gretje Tapper, his mother; Lois Tapper, his daughter who was born pre-mature at 6 months, and living just one day; his wife, Louise Tapper; his grandson, stillborn child of his daughter Alice; and himself. There is one remaining grave that is occupied, but not noted as to who is buried there. Two people come to mind as to who it might be, and obviously further research needs to be done. It could be his step-father, Edzard Heinrich Tapper, who died 22 Dec 1881, or it could be his brother, Folkert Tapper who passed away 18 May 1888. The cemetery was established in 1885, so Folkert would be a likely candidate. So we circle back to the question of when the plot was purchased, and by whom. It is likely that a couple of lots were purchased by Gretje when Folkert died, but at this point it is only speculation.
When Anton designed the monument, he chose very specific images. There has been much written about the symbolism of carvings on a tombstone, gravestone or monument. While I am sure that many choose what symbols to decorate these eternal stones from the standard catalogue and meaning, I believe that these symbols can also have a different, or secondary meaning.
Included on the stone are these images:




An Anchor, traditionally a symbol of hope, or eternal life. I love the idea that early christians used it as a disguised cross.

A Cross, traditionally a symbol of faith and eternity.




Alternately: A Cross and Anchor, which refers to Christ as "hope we have as an anchor of the soul, both sincere and steadfast." (Hebrews 6:19). ((

http://www.memorials.com/Headstones-Symbolism-information.php

: accessed 19 Mar 2017.))

A Column traditionally symbolizes the noble life of the head of the family.

Ivy, traditionally a symbol of eternal life.

Ferns, traditionally a symbol of humility and sincerity.

A Lily traditionally symbolizes purity or resurrection. In this case the flower is below the leaves, it could represent a broken flower, meaning pre-mature death.
Putting myself in my great-grandfather's shoes, I believe that he took all of this into consideration, but also looked at it from a slightly different angle.
The Anchor and Cross. Anton was the son of a sea captain, his father having died at sea when he was just two years old. He lost his brother when he was six, and his younger brother died either on the voyage to America, or shortly after landing. I wrote about this in my blog post titled "Strength at Christmas." His only remaining brother, Folkert, died at the age of 21 in 1888. The anchor and cross, symbols of hope, faith, eternal life, and a symbol of his father, the captain of the Three Sisters.

The Column. The noble life of the head of the family – his mother. A strong and determined woman, who did all she could to create a good life for her family.

Ivy and Ferns. Again hope for eternal life, with humility and sincerity.

A broken lily. Pre-mature death. He certainly experienced enough pre-mature death.
The reason for his choices have been lost in time, but the monument stands, tall and solid. A testament to the strength and endurance of this pioneer family of Hammond, Indiana.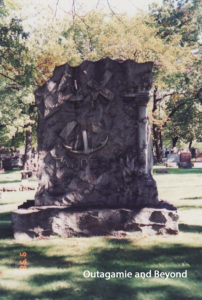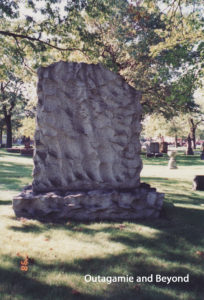 SaveSave