This is an archived post from "The Aroma of Bread," and was first published 20 Dec 2015.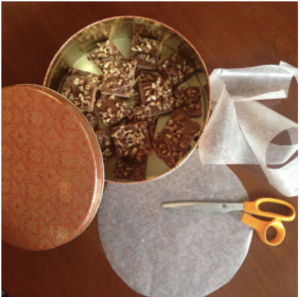 It was a Saturday before Christmas, maybe in 1988 or 89, and Gary and I had headed out to Hollandtown to get some work done for Holland Veal. Walking into the house we were greeted by the wonderful smell of cookies baking. The smell of Christmas at Butch and Marie's.
Entering the warm and wonderful smelling kitchen, we found Butch sitting at the kitchen table preparing the cookie tins for filling while Marie was working at the counter. They were relaxed, content in their companionship and conversation.
What makes this memory stick is not the relationship of my in-laws (that was constant) but how Butch was prepping the cookie tins. While I would just rip off a piece of waxed paper and stuff it in between layers, he was sitting at the table with pencil and scissors at hand, tracing and cutting each waxed paper round to fit perfectly inside the tin. He did this every year for Marie, and each year each tin was a perfect presentation of cookies.
The recipe that I am sharing today is a family favorite – for both my family and the Fassbenders. Marie and I made them for our families each year, but with one difference, the chocolate. Toffee Squares are a wonderful crunch of toffee flavored cookie topped by chocolate.
My recipe from an old Betty Crocker Cooky Book uses the heat of the "just out of the oven" cookie to melt the squares of Hershey bar that you quickly place on the cookie, then spread out. I shared this quick and easy way of adding the chocolate with Marie one year, but she "stubbornly" continued to melt chocolate in a bowl over boiling water. Either way, the cookies didn't last long in either home.
Updated Addition: In November 2021 I unpacked a box of Marie's old cookbooks and sat down with all of the loose pages to determine in which book they belonged. In the pile was a tattered book that Marie had stapled back together, and in this book dated November 1953, I found her Toffee Square recipe. It is pictured below with a transcription of her much smudged notes.