Swallow-Tail Coat and A Plug Hat
June 16, 1927 was the date that twenty-six-year old Gretje Sophia Tapper, daughter of Anton and Louise Tapper, and forty-two-year old Albert Juiius Warber, DDS chose as their wedding date.
Trinity Lutheran church in Hammond, Lake Co, Indiana was filled with 250 guests as she was escorted down the aisle by her father to Lohengrin's Wedding March. Her brother's Anton Jr., and Roland served as ushers, and her sister, Alice, served as her maid of honor.
The Lake County Times account of the wedding was filled with the usual language of the time as it described the wedding. The "attractive bridesmaids in yellow taffeta frocks made with bouffant skirts and trimmed with dainty rosebuds of taffeta." They each wore a "large picture hat of horsehair braid, trimmed with yellow and orchid velvet ribbons and carried a vari-colored bouquet of spring flowers." Fourteen-year-old Alice serving as maid of honor, wore "a bouffant frock of orchid taffeta with rosebud trimmings. Her becoming hat was trimmed with lovely flowers. Miss Tapper also carried a pretty maid of honor bouquet."
The report continues: "The bride was lovely as she entered the church on the arm of her father in a wedding gown of white satin trimmed with brides lace and prettily beaded. Her cap-shaped headdress fell in soft folds of tulle to the hem of her gown and was touched with delicate flowers about her face. To complete her costume Miss Tapper carried a lovely bridal bouquet of lilies and roses en shower."
Immediately following the 4:30 ceremony an enjoyable dinner was served at the Hammond Woman's Club.[1]
The above article filled with vivid descriptions of what the bride and her bridesmaids wore was typical of the time. Every wedding was beautifully appointed and filled with "pretty" bridesmaids, and "lovely" brides. But it was a small item printed on the front page of The Lake County Times under the headline: "Did You Hear That" that really brought to life for me how big and "fancy" this Tapper wedding was.
The item reads: "This is a big afternoon for Tony Tapper. Aside from the marriage of his daughter, it's his first appearance in a swallow-tail coat and a plug hat."
A swallow-tail coat and a plug hat? Not knowing I turned to Google to see what I could learn. A tailcoat, for special occasions – think white tie, the coat has silk lapels and covered buttons with a single vent, with or without pleating at the back. The center vent rises up to the waistline and divide's the coat's skirt into two "tails," thus inspiring the nickname swallow-tail coat, or claw-hammer tailcoat. These "tails" extend down to the bend of the knee in a straight line, with a curve the bottom.
As for the hat. Merriam-Webster defines a plug hat as a stiff hat, such as a top hat.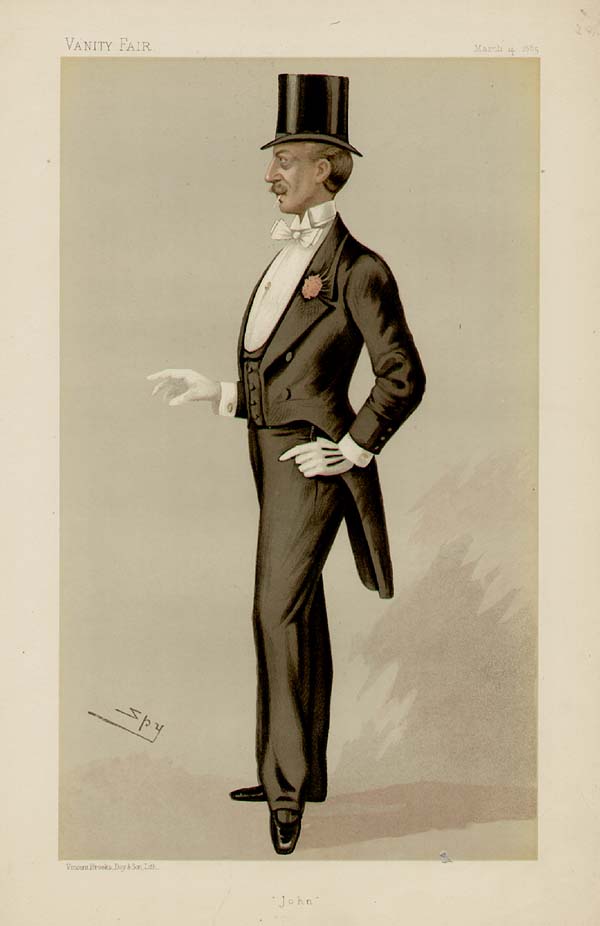 The out of copyright image to the left shows a man in a top hat at tails. AAHH I always think of Fred Astaire when I think of top hats and tails…
I wish that we had pictures of this wedding, but I do believe that this was not the first time that Anton appeared in formal evening dress. He was very well dressed at his own wedding twenty-seven years before his daughters.
But what I really love about these two articles is that together they provide a true look at how very formal this wedding was. The fact that it was a white tie affair is not reflected in the charming description of the bride and her bridesmaids.
Now if we only had a glimpse into what they served for the enjoyable dinner…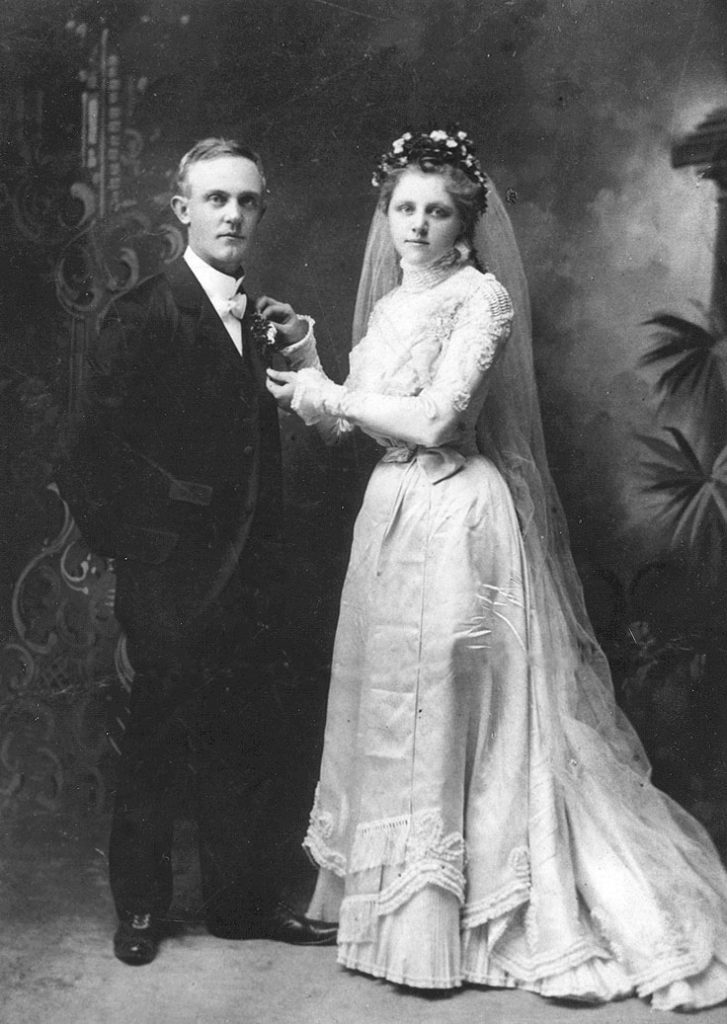 [1] "Miss Tapper and Dr. Warber Wed," The Lake County Times, 16 Jun 1927, Thursday, p. 10, col. 2; digital images, Newspapers.com (www.newspapers.com : accessed 16 Oct 2017).