There were many in my family who were entrepreneurs. They started businesses and provided services and goods at such a rapid rate, that it sometimes makes it hard to keep track of it all. My solution? Make good use of the powerful tool of a Legacy Family Tree database.
Last week a cousin and I got together and were talking about a company started by one of our common ancestors, the Alexandria Paper Company. She had recently visited Alexandria, Madison Co., Indiana, and discovered that the information that they had regarding the company had been donated years ago by my mother. Wanting to know more about the company, I set out to see what I could find.
The first step was to create a new "Unlinked Male" in my database, and I was off and running. Companies, like people, leave a paper trail, and like all research I will need to head to Madison County, Indiana for full details on the history of the company, but for now, I have found enough information to satisfy my curiosity. Enough to write up what I have learned in a blog post.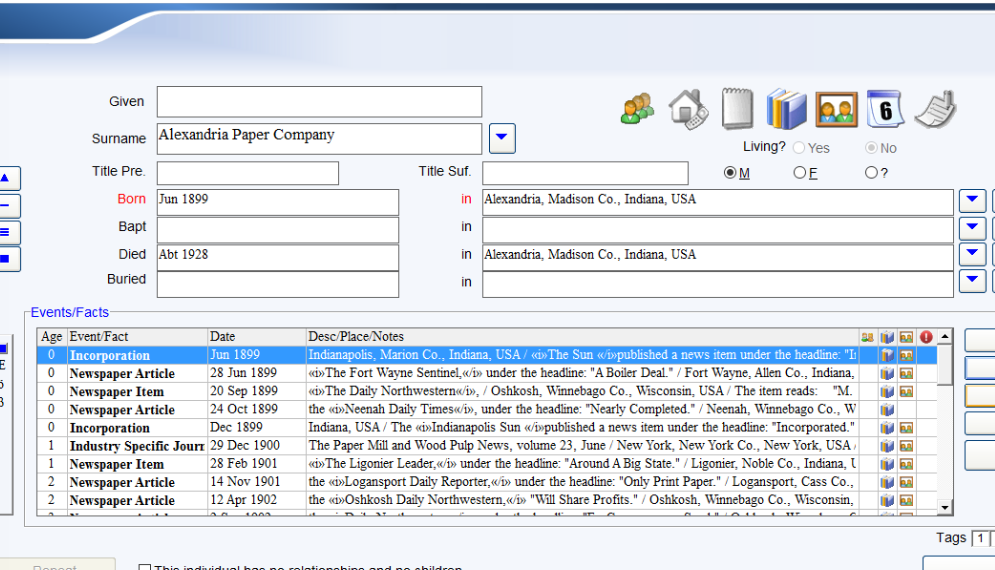 The question might be asked, as to why I do not include this information with the founding ancestor? My answer is, when the ancestor could be labeled a business mogul, it makes his individual entry too large and cumbersome. The personal details get lost in details of his business dealings. By creating an "Unlinked Male" I can easily find and add detail to just the one company, or business dealing.
My husband's family has been involved in the cheese industry here in Wisconsin since 1887, the first factory started by the patriarch Peter Fassbender, two of his sons continued the tradition. To keep them all in check, and to easily track the information about each factory, I have created a similar database to the above, only having the original factory named as the patriarch, and all others as children. Like any good family, these factories supported each other, working together so that each was a success. Their stories are entwined, and each factory story is needed to create timeline that shows the effect that these men had, and have, on the cheese manufacturing industry here in our state.
It's all about being able to tell the story – and to find the facts I need quickly and efficiently.