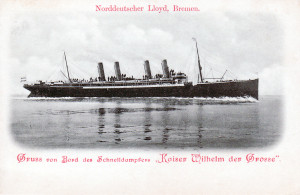 In late 1898 or early 1899, 60-year-old Peter Fassbender returned to Oedekoven for a visit. He made the trip with his friend and neighbor, Joseph Tennie. Not much is known about this trip, but what we do know is gleaned from the return trip passenger list, manifested on Ellis Island, March 7, 1899. For the manifest Peter states that he is a naturalized citizen, he had been in the U.S. for 43 years, he was in possession of a ticket all the way back to Appleton, Wisconsin, he had paid for his own passage, and that he was currently in possession of more than $30.00. [1] All of this is true, having been verified by other sources, but the passenger list goes on to ask the following questions: Ever in Prison or Almshouse or supported by Charity: No, Whether a Polygamist: No, Condition of Health, Mental and Physical: Good, Deformed or Crippled, Nature and Cause: No. While I believe his statement of "No" to all of these questions was a true answer, would anyone actually answer these questions with a "Yes?" Well, other than if there was an obvious deformity, as that could not be hidden.
What I find most fascinating about this trip, is the ship that he chose to return home on the Kaiser Wilhelm der Große. The ship was built for Norddeutshcer Lloyd by AG Vulcan Shipyards. The ship, named for his grandfather, was launched by Kaiser Wilhelm I, on May 4, 1897. It was the first ship to have a four funnel design, which for the next decade represented size and safety. It consumed 560 tons of coal per day.
In 1898, traveling at 22.5 knots, it was the fastest merchant ship in the world, carrying 24% of the First Class passenger revenue on the North Atlantic to New York.
The ship which was top-heavy, was known as "Rolling Billy" by her regular passengers. She could hold 332 First Class passengers, 343 Second Class passengers, and 1.074 in Steerage.
In 1913 the ship was rebuilt to carry Third Class passengers only, and when the First World War broke out, she was requisitioned and turned into an armed cruiser. The Kaiser was sunk August 26, 1914 off of Rio de Oro, Africa.
What I find confusing about this passenger list, is that it seems to go on forever with no organization. I cannot tell (yet) what class of passenger he traveled as. I cannot believe that he would have traveled steerage, but there is not clear statement of class of passenger noted on each page. More work will need to be done to figure this out, but in the meantime I found this really cool YouTube video with many images of the ship. Enjoy.

SOURCES:
Ancestry.com, Passenger and Crew Lists of Vessels Arriving at New York, New York, 1897-1957 (Digital image by subscription, Ancestry.com, (http://www.ancestry.com), from National Archives microfilm T715), Peter Fassbender entry; Kaiser Wilhelm der Große Passenger Manifest, 7 Mar 1899, page 9 line 15, T715; roll 50. Cit. Date. Oct. 2002.