The Early Years. The Fassbenders, the Cheese, and Wisconsin
I was wrong. I thought that because I had been researching this topic since 1998, that it would be a SNAP to write the story up to oh, say 1918. I was wrong, because even during these early years there is this strange entwining of names, and the question of which man is this story referring to? But to continue the tale.
Peter Joseph Hubert Fassbender was born and raised in Oedekoven, Rhine Province, Germany. In 1856 at the age of 18, he emigrated to Wisconsin, settling with his mother and step-father in Granville, Milwaukee Co., Wisconsin. In 1862 he married the "girl next door" Elizabeth Nettekoven, the Nettekoven's having settled on the land adjacent to Peter's family. During their first year of marriage, Peter and Elizabeth lived on a rented farm in the Milwaukee area before packing their ox-cart and making their way north to Outagamie County. When I first read about their five day journey, I had what I thought was an insane image of them walking up Highway 41, but looking at this David Rumsey map of Wisconsin dated 1855, I see I was not too far off.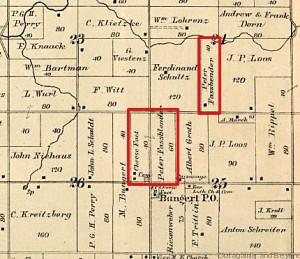 They made the decision to settle in the town of Ellington, Outagamie County, and on November 12, 1863, Peter purchased a sixty acre plat for $950.00 in Section 25. [1] Peter worked hard cultivating the land so that it would be in good condition for his crops. In 1868 he added an adjoining 40 acres of Section 26 to the original 60, and in 1883 purchased an additional 40 acres in Section 24, creating a total of 140 acres of good rich farm land. [2]
Peter and Elizabeth were blessed with nine children. Anna born in 1865, John Mathias 1866, Joseph Peter 1868, Conrad Henry 1869, Mary Francis 1871, Hubert 1875, Elizabeth Mary 1877, Henry John 1880, and Maggie, who was born in 1882. Six lived to adulthood as they lost Conrad in 1869, Mary Francis in 1871, and their youngest daughter, Maggie, the summer of 1900.
As Peter decided to add cheese manufacturing to his mix of business, he enlisted all four of his surviving sons to work with him in the factory, and this allowed him to expand until he was running three factories as part of his family business. His eldest son, John, began working at age 16 as a laborer for other cheese factories in the area. He returned home in 1887 to work for his father, remaining with him till 1890 when he "embarked on the business himself, conducting a factory for five years." In 1895 John married and soon moved to Appleton "where the next five years were spent in various occupations" until 1902 when he returned to farming, purchasing land in Black Creek, Outagamie Co., Wisconsin. [3] While John lived in Appleton for those five years, I believe he must have retained ownership of the factory, as I find him listed as "John Fastbinder" in the Biennial Report of the Dairy and Food Commissioner of Wisconsin, as owning and operating an unnamed cheese factory in Greenville, Outagamie Co., Wisconsin in 1899. [4]
Peter's second son, Joseph's first love was for the land, and although he spent time working in the factories, he soon returned to farming. He "always remained on the home place, of which he took charge at the age of thirty years, and three years later he bought the land." [5] He married in 1902, and remained on the family farm for the remainder of his life.
Peter's youngest sons were Hubert and Henry John. Funny, I have yet to find a middle name for Hubert, although I have found reference to the letter "F" being used. Hubert and Henry literally grew up with their father making cheese in addition to farming, and the cheese industry became their chosen profession, both men owning and operating successful factories in the Fox River Valley. This is their story.
SOURCES;
"Wisconsin, Outagamie County Records, 1825-1980," images, FamilySearch (https://familysearch.org/pal:/MM9.3.1/TH-1942-22093-43526-77?cc=1463639 : accessed 01 Apr 2014), Land and Property > Deed record, 1863-1864, vol. 16 > image 416 of 609; citing Outagamie County Courthouse, Appleton.
Thomas H. Ryan, History of Outagamie County Wisconsin (Chicago: Goodspeed Historical Association, 1911), 767.
Thomas H. Ryan, History of Outagamie County Wisconsin. (Chicago: Goodspeed Historical Association, 1911), 764-765.
Wisconsin. Dairy and Food Commission, Biennial Report of the Dairy and Food Commissioner of Wisconsin. (Michigan: University of Michigan, 1899) www.books.google.com : accessed 26 Mar. 2014.
Ryan, History of Outagamie County, 923-924.