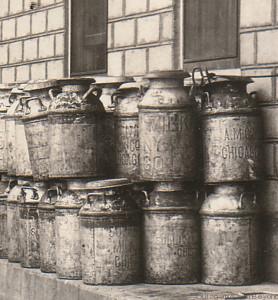 My name is Susan Fassbender, and I began my journey into the historical past of Outagamie County in 1998 as I put together a Christmas present for my father-in-law. With his encouragement and questions, I began to research his grandfather, Peter Joseph Hubert Fassbender. A librarian at heart, having started working as a Children's Library Page at the age of 15, I started not with looking for dates, but scanning the stacks in the Appleton Public Library's Local History section. I quickly hit pay dirt (beginner's luck I assure you) in locating autobiographical material in The History of Outagamie County  [page 766. For some reason he was not indexed in this database] and also in The Commemorative Biographical Record of the Fox River Valley. So I was off and running putting together the wonderful story of emigration and cheese making. I am now in the third revision of my book which I have entitled A Snapshot: Peter Joseph Hubert Fassbender, His Ancestors and Descendants. My passion for this family has not diminished over these many years.
I also started a blog in memory of my mother and father-in-law. They had a profound impact on their four sons and nine grandchildren. So to honor and preserve their memory I created "The Aroma of Bread." I invite you to visit.
Families in my database:
Campbell, Cook, DuCate, Fassbender, Francisco, Goerling, Gray, Normann, Ruffing, Schultz, Sternitzky, Tapper
Memberships:
Wisconsin Genealogical Society
Bay Area Genealogical Society, Inc. (B.A.G.S.) Green Bay, Wisconsin
Family Roots – Wisconsin. Meets in the Menasha Public Library

I am a member of the Association of Professional Genealogists.